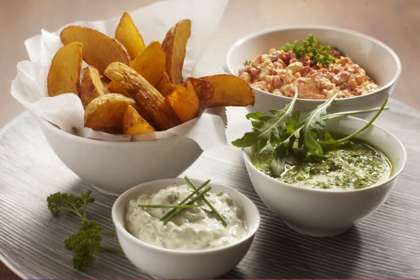 Cheese and Herb Potato Wedges are made with the baked potato wedges and then flavored with the cheese and aromatic herbs and spices. It is a delightful snack dish which also can be presented as a starter or an appetizer.
In India, potatoes are a common form of vegetable which can be cooked in different numerous ways. These are the home made potato wedges which are difficult to see in Indian restaurants. So you must give at least one try to this recipe.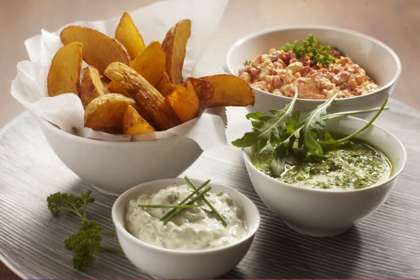 Preparation time: 5-6 minutes
Cooking time: 25-30 minutes
Servings: 4-5
Ingredients:
4 big potatoes (remove the skin and cut into wedges or fingers)
1 small cup processed cheese
6-8 cloves garlic minced or grated
1/2 tsp dried rosemary
1/2 tsp dried oregano
1/2 tsp dried paprika
1/2 cup salted butter
2 tbsp olive oil or vegetable oil
Salt to taste
How to make Cheese and Herb Potato Wedges:
Preheat the oven to 350F degrees for about 5-7 minutes.
Place a foil paper on a baking tray and apply little bit of oil.
Combine cheese, garlic, rosemary, oregano, paprika and salt in a bowl and add the potato wedges.
Also melt the butter in a sauce pan and add into the mixture.
Mix well and toss twice to coat the wedges completely in the mixture.
Place the potato wedges on the prepared baking tray by keeping sufficient distance.
Leave to bake for about 35 minutes.
In between stir them once and bast with the oil.
While serving grate some more cheese and again bake for about 2 minutes.
Serve on the spot.
Chef Tips:
To enjoy these wedges it is best to serve on the spot.
If you like spicy wedges then you may add chopped green chillies into the mixture.
If you do not get these dried herbs, then use ready made mixed herbs (comes in a bottle) available in almost every grocery store.
Be careful while adding the salt, its because we are already using salted butter.