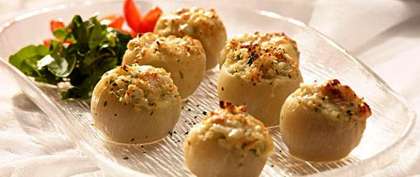 Baked onion with cheese are simply made with the onions and bell peppers. All trio-colored bell peppers are used to give a unique flavor and mouth melting color to the recipe. The preparation has the huge part of cheese involved to make the dish juicy and cheesy.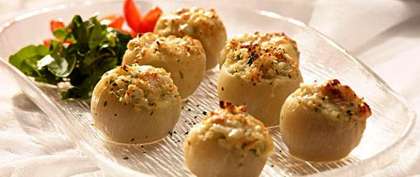 Preparation time: 10 minutes
Cooking time: 20 minutes
Servings: 3
Ingredients:
2 big onions
4 tbsp processed cheese
1/2 green bell pepper
1/2 red bell pepper
1/2 yellow bell pepper
4-5 cloves garlic chopped
2 green chillies sliced
1 inch ginger minced
1/2 tsp lemon juice
3 tsp olive oil
Salt to taste
How to make Baked Onion with Cheese:
Chop the onions in medium size quarters and separate the layers.
Chop the bell peppers into 1/2 inch pieces and keep aside.
Grate the processed cheese in a bowl and keep aside.
Heat 2 tsp of oil in pan, add green, garlic and minced ginger.
Saute for few seconds.
Add bell peppers and salt.
Mix well and simmer the flame.
Preheat the oven to 250F degrees, grease the baking tray with little bit of olive oil.
Spread the onion over the greased baking tray.
Sprinkle half of grated cheese.
Now spread the bell peppers mixture over the onion, sprinkle little bit of oil, sprinkle lemon juice all over and make a layer of remaining grated cheese.
Bake in the oven until cheese melts and onions turn into light golden brown in color.
Chef Tips:
Add little bit of sugar if onions are bitter in taste.
You can use normal vegetable oil instead of olive oil.