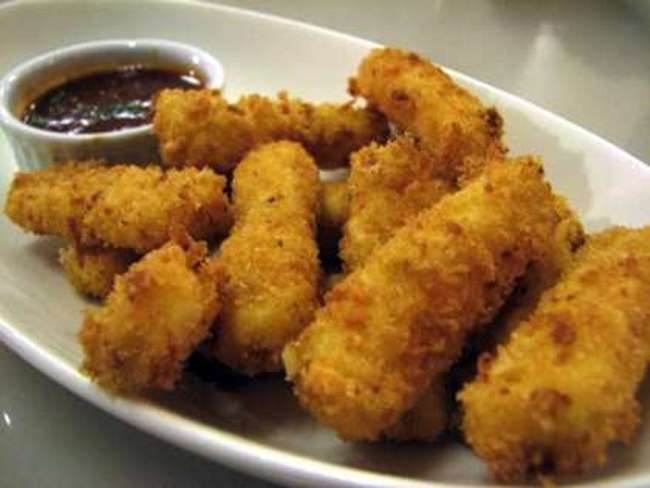 Crispy Fish Fillets is the spicy recipe made with fish fillets, onion paste and spices. This wonderful fish dish is one of the best option to serve as a starter or as a side dish with the drinks.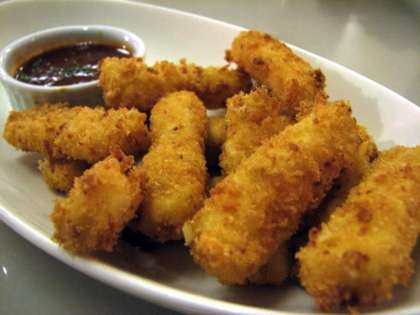 Preparation time: 20 minutes
Cooking time: 30 minutes
Serves: 4
Ingredients:
1 kg fish fillets
2 medium size onions thinly sliced
1 inch ginger julienne
4-5 garlic flakes
3-4 green chillies paste
1/2 tsp red chilli powder
1/4 tsp turmeric powder
2 tsp coriander powder
1 tsp white sesame seeds
1 tsp poppy seeds (khus-Khus)
1/2 tsp cumin powder
1/4 tsp dry mango powder
Salt to taste
2 tbsp ghee
How to make Crispy Fish Fillets:
Clean the fish fillets and wash thoroughly in normal running water.
Pat dry with clean kitchen cloth and cut into small pieces.
Apply salt on the pieces of fish fillets, cover and keep aside for 8-10 minutes.
Heat the ghee in a non-stick pan and fry the slices of onion until browned.
Allow the onion to cool completely.
Combine the fried onion, sesame and poppy seeds, grind to make a smooth paste.
In the same pan fry the ginger julienne and garlic until turns into golden color.
Add onion paste along with the paste of green chillies.
Saute for 3-4 minutes, adjust with salt and all the spices.
Saute just for 1 more minute and turn the gas off.
Leave the mixture to cool for sometime and marinate the fish fillets thoroughly in the prepared mixture.
Cover and keep aside for 30 minutes.
Preheat the oven to 350 degrees F for 5 minutes.
Apply little oil on the oven skewers and arrange the marinated fish pieces on it.
Put the skewers in the oven and cook for 10-12 minutes until turns into golden brown in color.
In between bast the skewers twice with oil/ghee.
Serve hot with green chutney and onion rings.
Chef Tips:
You can make these delicious fish fillets in the barbecue or in the non-stick pan as well.