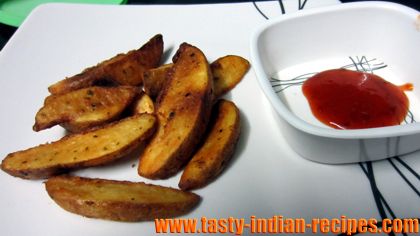 Garlic Herb Potato Wedges is a crispy and delicious snack dish made with the roasted potatoes, flavored with the garlic and herbs and then turned into awesome wedges, which are also famous as a steak fries. These unique flavored potato wedges are to be served quick and on the spot by providing food mobility service in the party or occasion.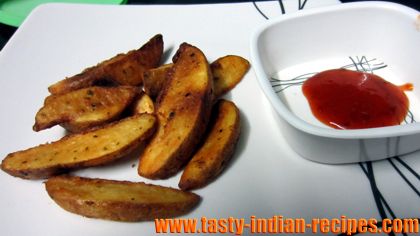 Preparation time: 20 minutes
Cooking time: 45 minutes
Servings: 4-5
Ingredients:
4 big potatoes
8 cloves garlic minced
1/2 tsp mixed herbs
1/2 tsp red chilli flakes
1/2 teaspoon dried thyme
1/2 teaspoon dried oregano
Chaat masala to sprinkle
Salt to taste
How to make Garlic Herb Potato Wedges:
First of all cut the potatoes in 1/2 lengthwise, do not remove the skin, make the thick pieces and wash thoroughly.
Drain the whole water and pat dry the pieces of potatoes.
Preheat the oven to 350F degrees for about 5-6 minutes.
In a bowl combine all the ingredients except the chaat masala.
Now add the potato wedges, mix well and toss to coat them evenly.
Prepare the baking tray of oven by spreading the foil paper.
Sprinkle little bit of oil and place the wedges at at proper distance.
Bake for about 40-45 minutes or until look crusty and brown from the edges.
While serving sprinkle some chaat masala and salt if required.
Serve with chutney or sauce.
Chef Tips:
Serve these wedges immediately to enjoy the snack.
Make sure to keep the even space while placing the wedges on the baking tray, in this way they will cook uniformly from all the sides.