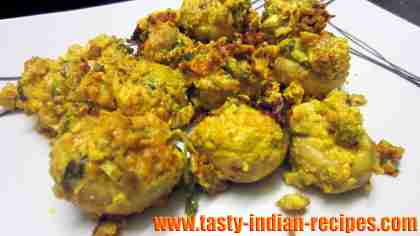 Stuffed Mushroom is one of the most delicious starter recipe, here button mushrooms are stuffed with a fine and unique preparation of cheese, curd, sesame seeds and some dry nuts. Learn how to make restaurant style stuffed mushrooms that is my hubby's all time favorite recipe.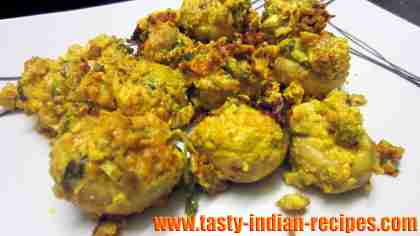 Preparation time: 15 minutes
Cooking time: 18-20 minutes
Servings: 2
Ingredients:
10-12 whole button mushrooms
1 tbsp butter/oil
4-5 cloves garlic
1 inch ginger piece
4 green chillies
1 tsp white sesame seeds
4-5 cashew nuts
4-5 almonds
1/2 tsp poppy seeds
1/2 tsp curd
4 cubes of processed cheese
1/4 tsp black pepper powder
1/4 tsp turmeric powder
1/4 tsp chaat masala powder
1/4 tsp garam masala powder
1 tbsp freshly coriander chopped
1 tbsp mint leaves chopped
Salt to taste
How to make Stuffed Mushrooms:
Combine the garlic, ginger, green chillies, sesame seeds, poppy seeds, cashew nuts and almonds.
Grind and make a smooth paste.
Clean the button mushrooms with a damp kitchen napkin and break off the stems.
Chop the stems finely and keep aside.
In a big bowl, combine the ground paste, curd, salt, spices, coriander, mint and processed cheese.
Mix very well to make a thick mixture.
Preheat the oven to 350 degrees F and grease the baking sheet with little amount of butter.
Fill each mushroom cap with a good amount of stuffing and arrange on the prepared baking sheet.
Bake the mushrooms for about 15-18 minutes until liquid starts to form under the mushroom caps.
You can see the cheese starts melting and mushrooms turns into little bit brownish in color.
Serve piping hot with onions and lemon wedges.
Chef Tips:
Another way to make these yummy stuffed mushrooms is a non-stick pan. If you do not have oven and want to enjoy this dish then you can make it in the pan with the same way, for proper cooking you just need to add little bit of water around and cover the pan to cook the mushrooms from inside as well.
If you want to taste restaurant style stuffed mushrooms, then try buying big size button mushrooms.