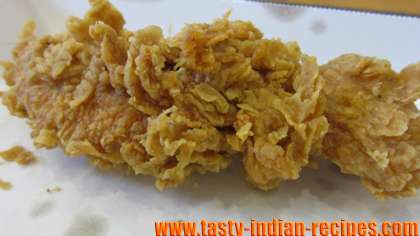 Crispy Fried Chicken is all time hit snack dish. I have been getting several compliments on this chicken, hence would like to share with you guys and trust me it is one of the best option to serve with drinks.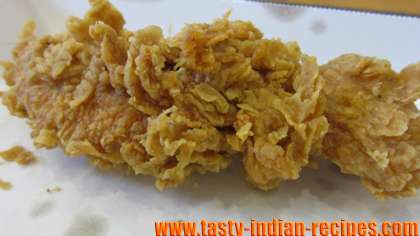 Prep time:
Cook time:
Total time:
Yield: 4 servings
Ingredients:
1/2 kg chicken , cut into long pieces
1-1/2 cups all-purpose flour (maida)
2 tbsp cornflour
1 tsp paprika
1/2 tsp black pepper powder
3/4 cup buttermilk
1/2 tsp soda-bi-carbonate
Salt to taste
Oil for frying
How to make Crispy Fried Chicken :
Heat good amount of oil in a big frying pan.
Take a big bowl and mix all the ingredients very well, make a medium thick batter, just like we make any pakoda / fritters batter.
Pour 1 tbsp of hot oil into the batter and continue mix with the spoon.
Take a piece of chicken, dip into the prepared batter and drop into hot oil.
Make sure that the chicken piece if fully coated with the batter, else it will be raw while eating.
Fry carefully on medium high heat, till the chicken turns into crispy, golden brown color.
Drain on oil absorbent paper and fry remaining chicken pieces in same way.
Serve them immediately with homemade tomato salsa dip to enjoy yummy.
Chef Tips:
You can enjoy this delicious snack dish with your favorite sauce or dip.
Make sure, serving this snack dish immediately is very important, else the chicken turns mushy and soggy in few minutes.