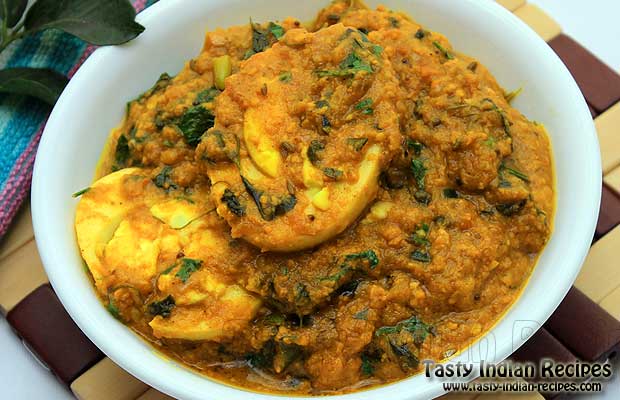 Indian Egg curry is the delicious main course dish, made with the boiled eggs in the rich Indian red gravy and spices. It is an extremely tasty and a quick dish to serve. You may serve it as a main course dish with the roti or as a side dish along with dal and rice. In any ways this dish is irresistible to eat.
Preparation time: 15 minutes
Cooking time: 20-25 minutes
Servings: 3-4
Ingredients:
4 eggs boiled
2 onions sliced
6 tomatoes sliced
4-6 green chillies
1 inch ginger
4-5 cloves garlic
1/2 tsp sesame seeds
1/2 tsp poppy seeds
4 green cardamoms
4 cashew nuts
1/2 tsp cumin seeds
4 curry leaves
1/2 tsp mustard seeds
1/2 tsp red chilli powder
1 tsp coriander powder
1/2 fresh lemon juice
Fresh cilantro chopped
2 tbsp vegetable oil
Salt to taste
Whole garam masala:
1 dried red chilli
1 bay leaf
1 black cardamom
2 cloves
3-4 peppercorns
1/2 inch cinnamon stick (broken in bits)
How to make Indian Egg Curry:
Heat the oil in a kadhai and add onion. Fry until onion turns into slightly golden in color.
Switch off the gas, leave onion to cool and then put in the blender.
Also add the tomatoes, green chillies and ginger in the same blender.
Blend to make a smooth puree or paste. Keep aside.
Combine the sesame seeds, poppy seeds, green cardamoms and cashew nuts in a grinding bowl.
Grind to make a powder. Set aside.
Now in the same kadhai (in which the onion was fried) add whole garam masala. Saute for few seconds.
Now add cumin and mustard seeds along with curry leaves.
When there seems enough spluttering then add the ground puree.
Add salt, red chilli powder and coriander powder.
Mix well and cover the pan to cook until oil begin separating.
Now add little bit of water, grounded powder of seeds and bring to few boils on low flame.
You will see the nice color of gravy has come out.
At this moment add lemon juice and coriander powder. Mix well.
Now half slit all the boiled eggs vertically and add in the gravy.
Mix very gently to coat the eggs, simmer the flame and leave to cook for 4-5 minutes.
Check the gravy with the boiled eggs is thickened or not or leave to cook again.
Finally garnish with fresh cilantro and serve hot with the roti, bread slice or rice.
Chef Tips:
You may try adding boiled potatoes along with the eggs.
You must serve this dish immediately because keeping it long time makes the gravy too thick, which may not be preferred.
Do not let the eggs to break in the gravy for the good presentation.