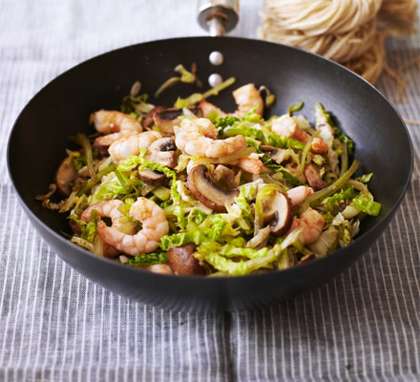 Prawns And Cabbage is specially made for the prawns lovers, a unique but extremely tasty combination of prawns and Indian cabbage.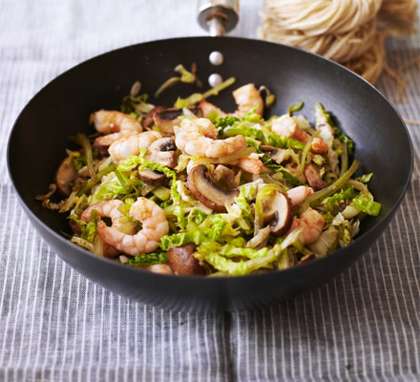 Preparation time: 15 minutes
Cooking time: 15-20 minutes
Servings: 2-3
Ingredients:
2-1/2 cups cabbage finely shredded
100 gm prawns (rinsed)
1/2 tsp kalonji (nigella seeds)
1/2 tsp cumin seeds
3-4 green chillies halved
1 onion thinly sliced
1/2 tsp red chilli powder
1/2 tsp turmeric powder
1 tsp coriander powder
A pinch of chaat masala powder
Salt to taste
1 tbsp cooking oil
How to make Prawns And Cabbage:
Heat the oil in a non-stick pan and add cumin, kalonjis and green chillies.
Saute for few seconds and then stir in the slices of onion.
Fry until onions turn brown.
Add the prawns and cabbage along with salt and spices.
Keep stirring on medium high flame until it looks glistening.
When the prawns are done, remove it from the flame and serve piping hot with rice or roti.