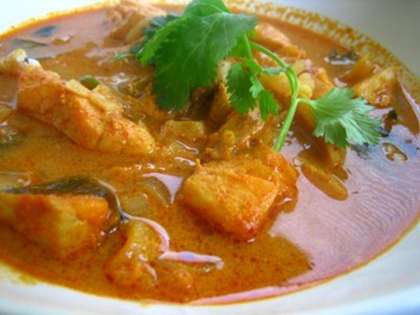 Macchi Ka Salan is the spicy dish cooked with slices of fish, mustard seeds, poppy seeds and grated coconut. A unique blend of sea food is an unimaginable and wonderful recipe.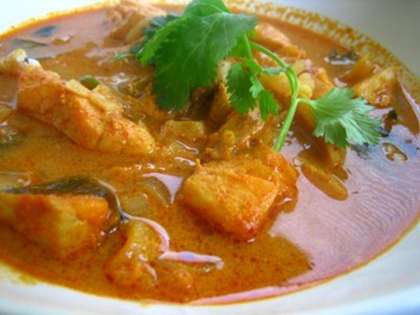 Preparation time: 15 minutes
Cooking time: 30 minutes
Servings: 4
Ingredients:
350 gm fish (cut into slices)
1 big onion sliced
3 tsp poppy seeds (khus-khus)
2 tbsp mustard seeds
1 tsp shah jeera
1 tbsp white sesame seeds (til)
2-3 green chillies
1 cup grated coconut
2 cups coconut milk
2-3 curry leaves
1 tsp red chilli powder
1/2 tsp turmeric powder
1-1/2 tsp coriander powder
2 tbsp tamarind
4 tsp cooking oil
Salt to taste
How to make Macchi Ka Salan:
For making the masala, combine the grated coconut, jeera, mustard seeds, poppy seeds, white til and spices.
Blend altogether to make a smooth paste and keep aside.
Soak the tamarind in 1 cup of water for 15 minutes, extract the pulp and keep aside.
Heat the oil in a non-stick pan and add sliced onion.
Fry till onions turns to crisp and golden brown.
Add the ground paste and stir in for few minutes till the oil separates.
Add the slices of fish and fry little bit.
After few minutes of continuous stirring, add coconut milk.
Finally add tamarind, curry leaves and adjust the dish with some salt.
Simmer the flame till the gravy thickens.
Sprinkle the grated coconut and serve hot with roti or jeera rice.