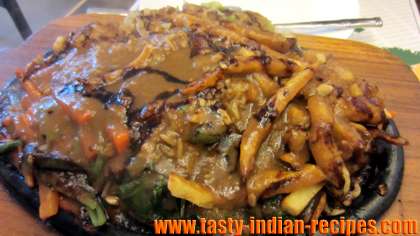 Chicken sizzler is a hot dinner party recipe, here the boneless chicken is marinated in spices and soy sauce, cooked on a proper flame and served on a hot sizzling plate.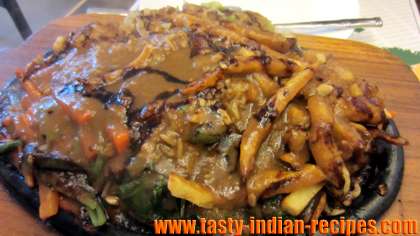 Ingredients:
300 gm boneless chicken breast
2 tbsp ginger-garlic paste
3-4 green chillies finely chopped
2 small onions finely chopped
2 tbsp thick curd
1/2 tsp red chilli powder
1/4 tsp turmeric powder
1-1/2 tsp vinegar
1/4 tsp soy sauce
A pinch of black pepper powder
2 tbsp fresh coriander leaves chopped
Sizzler plate
Cooking oil
Salt to taste
Some cooked rice as an accompaniment
How to make Chicken Sizzler :
Cut the  chicken breast into some medium size pieces.
Combine all the ingredients in a big bowl without adding oil.
Marinate the chicken very well into the mixture and refrigerate for 2-3 hours.
Heat a frying pan over moderate heat and add 4-5 tbsp cooking oil.
Drain the liquid mixture of chicken marinade and drop few chicken pieces at a time in hot oil.
Do not throw the liquid sauces out of chicken as it will be used later for cooking
Fry for 2-3 minutes on medium high flame until chicken tenders.
Flip and fry till the chicken looks little brown from both sides.
Now heat the reserved liquid sauces of chicken for 2 minutes and add fried chicken into it.
Heat the iron plate very well and put over the wooden plate.
Arrange some cooked rice on one side of the hot plate.
Add some pieces of chicken and accompany with some french fries and salad.
Just before serving the sizzler on the table, splash some drops of water and oil to get the sizzling fumes for long time.
Enjoy yummy.
Chef Tips:
For the accompaniments with chicken sizzler, you can use fried rice, biryani, pulao or your favorite side dishes.