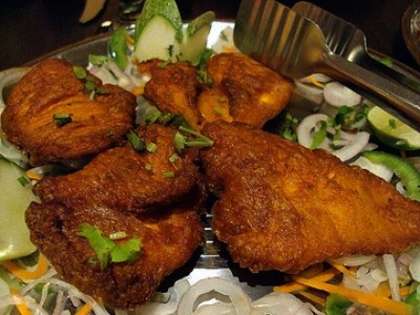 Punjabi Fried Fish is the authentic style preparation of the fresh fish fillets. Here fish fillets are very well coated in the batter of besan, semolina and the spices and then deep fried in hot oil. It is one of the best fish recipes from Punjabi cuisine, ready to spread its aroma all over.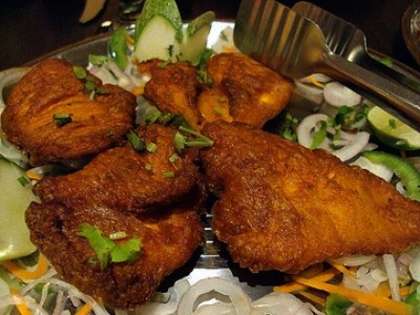 Preparation time: 20 minutes
Cooking time: 20 minutes
Servings: 4
Ingredients:
400 gms fish fillets
2 cups besan (bengal gram flour)
1 tbsp suji (semolina)
1 egg
2 tbsp ginger garlic paste
4 green chillies chopped
Fresh coriander leaves chopped
1/2 tsp lemon juice
1/4 tsp turmeric powder
1/2 tsp red chilli powder
A pinch of cumin seeds powder
1/2 tsp garam masala powder
Salt to taste
Oil to deep fry
How to make Punjabi Fried Fish:
Coat the fish with the salt and lemon juice. Keep aside for 10 minutes.
Combine the besan, suji, salt, red chilli powder, turmeric powder, cumin powder, garam masala powder, ginger-garlic paste, green chillies and coriander leaves.
Beat the egg thoroughly into the batter.
Mix well and add little amount of water to make a thick batter.
Heat the sufficient oil in a pan.
Coast the fish into the batter and deep fry until become crispy and little brown.
Fry on low flame so that the fish will get cooked.
Remove from the oil and place on oil absorbent paper.
Serve hot with the salad and chutney.
Chef Tips:
Deep fry single fish at a time to get it well cooked.
You can garnish this deep fried fish with the lemon wedges and kachumber to impress your friends and family.
The consistency of batter should be thick, so that fish could coat properly.
If your batter is made thin or liquid then add more amount of besan and suji to make it thick, also adjust the spices.