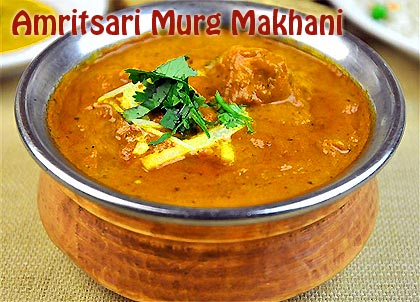 Amritsari Murg Makhani is an authentic Punjabi dish, chicken is simply made in the unique amritsari gravy and flavored with fresh cream and pure ghee.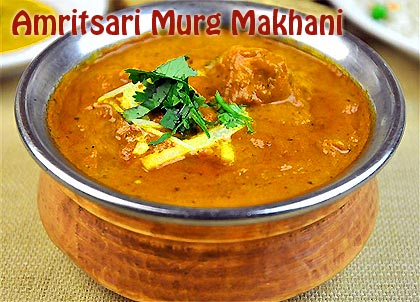 Preparation time: 10 minutes
Cooking time: 30 minutes
Servings: 4
Ingredients:
2 cups boneless chicken breast (about 250 gm)
2 tbsp ginger-garlic paste
4 green chillies thinly chopped
4 tbsp curd
1 tbsp lemon juice
1/2 tsp red chilli powder
1/4 tsp turmeric powder
1 onion coarsely chopped
4 tomatoes puree
1/2 tsp cumin powder
2 tbsp amritsari masala
1 tbsp fresh cream
1/2 tsp honey
Salt to taste
2 tbsp ghee
Few cashew nuts chopped
Few almonds chopped
Fresh coriander leaves chopped
How to make Amritsari Murg Makhani:
Grind the onion and green chillies to make a smooth paste.
Combine the onion paste, ginger-garlic paste, salt, red chilli powder, turmeric powder, curd and lemon juice.
Smear the chicken pieces and keep this marination aside for about 1-1/2 hours.
Heat the ghee in a non-stick pan.
Add marinated chicken and cook on low flame for about 5-6 minutes.
Add tomato puree and adjust with the salt and spices.
Cook until chicken tenders and puree thickens.
Now add Amritsari masala, fresh cream, cumin powder and honey.
Mix very well and cook only for 2 more minutes.
Garnish with chopped dry fruits and coriander leaves.
Serve hot with roti, naan or rice.
Chef Tips:
Sugar can be used instead of honey.
Ghee can be substituted with oil or butter.