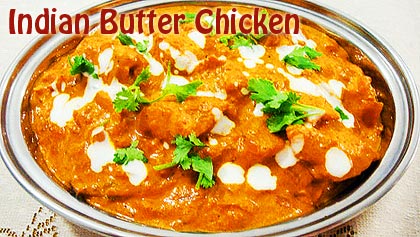 It is a delicious combination of butter, cream, honey and all other classy flavors,  (Indian Butter Chicken) is also known as Murg Makhani. Chicken Makhani is a rich and creamy gravy recipe. This recipe is a part of Indian Cuisine and is World Famous Recipe. It is my favorite dish, you will may also like it.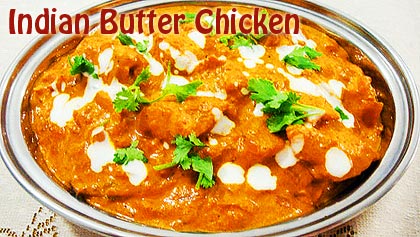 Preparation time: 10 minutes
Cooking time: 30 minutes
Servings: 4 persons
Ingredients:
350 gms boneless chicken (skin removed)
2 onions (cut into slices)
5-6 tomatoes (each tomato cut into 4 pieces)
1 cup fresh yogurt
2 tsp fresh lemon juice
2 tsp ginger-garlic paste
5-6 green chillies paste
2 tsp red chilli powder
1/2 tsp sesame seeds
1/2 tsp poppy seeds(khas-khas)
4 whole cashew nuts
4-5 roasted almonds
4-5 green cardamoms
2 bay leaves
2 whole dry red chillies (break it up)
1 inch cinnamon stick (break up in 3-4 small pieces)
1 pod black cardamom
2 cloves
4-5 black peppercorns
1 tsp cumin seeds (jeera)
1 tsp coriander powder
1/2 tsp red orange food color
2 tsp butter
1 tsp honey
1 cup fresh curd
Fresh cilantro chopped
1 tsp dried fenugreek leaves (Kasuri Methi)
4-5 mint leaves
2 tsp oil
salt to taste
How to make Chicken Makhani (Indian Butter Chicken):
Cut the chicken into small pieces and add salt, red chilli powder,1 tsp lemon juice and keep aside on a plate.
In the meantime take a mixing bowl, add yogurt, ginger-garlic-green chillies paste, salt and mix well.
Now add chicken in a mixing bowl and mix thoroughly in the marination of yogurt and keep it aside at least for an hour.
In a sauce pan heat little bit of oil and add green cardamoms, black cardamom, cloves and black peppercorns, saute them for a minute and let it to cool.
In a grinding bowl grind the fried ingredients(mentioned in 4th step) and make a fine powder.
Again in a grinding bowl add khas-khas, sesame seeds, cashew nuts and almonds, grind well to make a smooth powder and keep aside.
Heat up a pan add oil.
As oil heats add cumin seeds, sliced onions and fry till onion turns into golden brown color.
Take out onion from a pan, leave it to cool.
In a grinding bowl add fried onion with cumin seeds and chopped tomatoes, make a fine puree.
Heat up a pan, add oil, bay leaves, dry red chillies, cinnamon stick and saute for a minute on a medium high flame.
Add red puree, salt, red chilli powder and cook for 2-3 minutes.
Add marinated chicken, coriander powder and both ground powders (step 5 and 6) and mix evenly in the chicken.
Cover the pan and leave chicken to cook at least for 4-5 minutes on low gas flame.
Add little bit of water in between.
Now add honey, butter and 1 tsp lemon juice, do not mix them in the chicken.
Cover the pan again and leave to cook for 1 1/2 minutes.
Let the chicken gets all the aroma's of butter and spices.
Add red orange color and crush kasuri methi all over with your palms and mix well.
Finally add fresh cream, mix well.
Cook for a minute and Garnish with lots of fresh cilantro and mint leaves.
Serve hot with naan or plain rice.
Chef Tips:
You can keep marinated chicken overnight in the refrigerator, just need to cover it properly.
Do not add more water, the gravy should be medium thick.
You can garnish this recipe with raisins also.