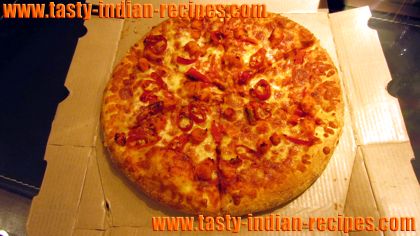 Spicy Chicken Pizza is innovated with the topping of cooked spicy chicken with the vegetables and shredded cheese. This pizza is specially for chicken lovers. Learn to make quick and delicious spicy chicken pizza and serve a great snack recipe.
Preparation time: 20 minutes
Cooking time: 20 minutes
Servings: 1 medium size thin crust pizza
Ingredients:
1 skinless boneless chicken breast
1 tsp pizza sauce
1/2 paprika chopped in slices
1/2 cup Mozzarella cheese
1 tsp olive oil
1/2 small onion (cut into slices)
3-4 cloves crushed or minced
1/2 cup shredded cheese
4 green chillies chopped
1/2 tsp red chilli powder
3-4 black peppercorns crushed
1/4 tsp flaked red chillies
1/4 tsp dried mixed herbs
Salt to taste
How to make spicy chicken pizza:
Rinse the chicken well in lukewarm water and cut into chunks.
In a big bowl combine chicken, garlic, green chillies, olive oil, salt, red chilli powder and crushed black pepper. Set aside for 15 minutes.
Heat up a pan and add this mixture along with slices of onion and paprika.
Adjust the salt and stir to coat the pieces of chicken well into all the spices.
Cook for 3-4 minutes till the chicken is cooked.
Preheat the oven on 400F degrees for 2 minutes.
Take a pizza base, spread 1 tsp of pizza sauce and sprinkle Mozzarella cheese.
Spoon the chicken mixture evenly on pizza base.
Sprinkle the shredded cheese.
Bake for 15 minutes or until crust become golden in color.
Take out from the oven, cut into slices and sprinkle the seasoning of flaked red chillies and mixed herbs.
Chef Tips:
I have used ready to eat shredded cheese, but you can grate the whole cheese over the pizza topping.
Mushrooms and spring onions also can be used to add more flavors.