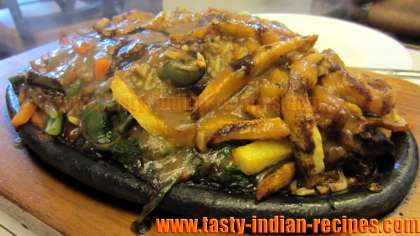 A perfect meal in form of Continental Chicken Sizzler is here in easy steps. A wholesome meal is served with lots of healthy vegetables, fried rice and french fries. You can choose any one side dish among fried rice, noodles or schezwan rice to make a great platter on hot sizzling plate.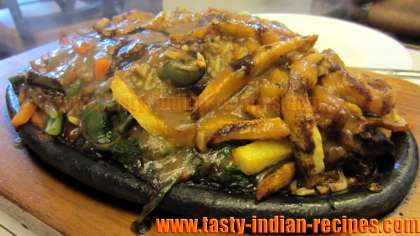 Prep time:
Cook time:
Total time:
Yield: 2 servings
Ingredients:
2 chicken breasts (boneless and skinless)
6-8 cloves garlic (finely chopped)
2-3 Baby corn (blanched)
1 medium size Carrot (cubed in 1 inch pieces)
3-4 Button mushrooms (quartered)
4 Cherry tomatoes
1/2 cup Cauliflower (blanched florets)
Handful Snow peas
1 Onion (finely chopped)
1/2 Red bell pepper (cut into 1/2 inch pieces)
1/2 Green capsicum (cut into 1/2 inch pieces)
1/2 tsp Black pepper powder
1-1/2 cups fresh made Brown sauce
2 tbsp butter
3 tbsp olive oil
Salt to taste
Other Important things for making perfect sizzler:
How to make Continental Chicken Sizzler :
Mix little bit of salt and black pepper powder in a bowl.
Marinate the chicken breast in prepared spice mixture and keep aside.
Heat little bit of olive oil in a pan and sear the chicken pieces on both sides very well.
Allow the chicken to cook on a low flame.
Flip it time to time, so that chicken can cook well from both sides.
Again heat 1 tbsp of olive oil in another frying pan and add all the spices.
Toss them very well by adding salt and black pepper powder.
Cook and keep aside.
Melt 1 tbsp of butter in a pan and saute garlic and onion very well.
Add seasoning and brown sauce.
Cook till a boil and set aside.
Heat a sizzler plate and place it on the wooden base.
Arrange all fresh cabbage leaves over it and place the cooked chicken breasts on any one side.
Now arrange the saute vegetables besides the chicken.
Also place french fries and fried rice besides the vegetables
Pour the prepared sauce over and serve immediately to enjoy restaurant style Continental Chicken Sizzler .