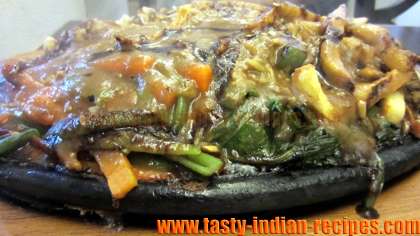 Chilli paneer sizzler is a lovely barbecue recipe, that can be cooked with paneer and veggies. Indian cottage cheese is marinated in the unique flavors of sauces and placed on a griller. This sizzler can be served either as a snack dish or as a main course dish with the favorite accompaniments.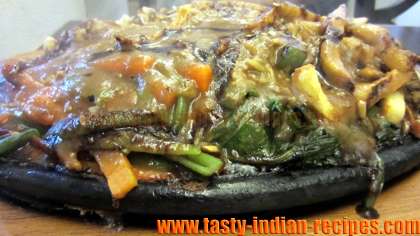 Ingredients
400 gm Indian cottage cheese (paneer)
1-1/2 tbsp soy sauce
2 tbsp ginger-garlic paste
3/4 cup fresh yogurt (curd, dahi)
1 cup french beans chopped
2 carrots diced
1/4 cup soaked chawli (cow pea / lobhia)
1 cup onion diced
2 small capsicums diced
1/2 cup soaked soya chunks (nutri-nuggets)
2-3 boiled potatoes
4 bread slices
2-1/2 tbsp chilli sauce
1-1/3 tbsp Worcestershire sauce
1-1/2 cup tomato ketchup
6 tbsp butter
Salt to taste
Ground pepper powder to taste
3 sizzler plates
How to make Chilli Paneer Sizzler:
Grate the paneer in a medium bowl and mash the boiled potatoes in it.
Mix both the ingredients very well with your hands and keep aside.
Soak the bread slices into water, squeeze out the whole water and mix with mixture of potato and paneer.
Add some salt, pepper powder and half of the ginger-garlic paste.
Apply some oil in your palms and mix again.
Divide the mixture into small equal size balls and shape them into cutlets.
Heat a non-stick griddle/tawa and spread some oil.
Place the cutlets over hot tawa and cook them on medium flame till the cutlets become golden and crisp from both sides.
Drain the cutlets on oil absorbent paper and set aside.
Boil the generous amount of water and add salt in it.
Add the vegetables and boil for few more minutes.
Pass the veggies through the sieve and keep aside.
Now add the chawli and soya chunks, boil for few minutes and drain aside.
Mix the curd, sauces, remaining ginger-garlic paste, salt and pepper powder.
Heat the curd mixture over high flame for few seconds till it thickens. Set aside
Heat the sizzler plates until very hot.
Spread some butter, arrange the boiled veggies and paneer cutlets side to side.
Pour the sauces and drizzle few drops of water over all.
While serving the sizzler, place your favorite salad and some french fries aside.
Serve immediately on the serving plate.