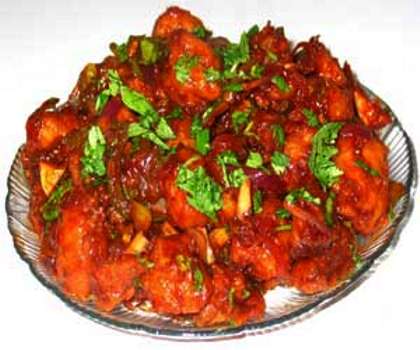 Veg Manchurian is all time hit Chinese recipe, several veggies are collected and mixed with some spices and turned into tiny and cute balls that can be eaten dry or in the gravy. A most famous Chinese dish commonly served with fried rice.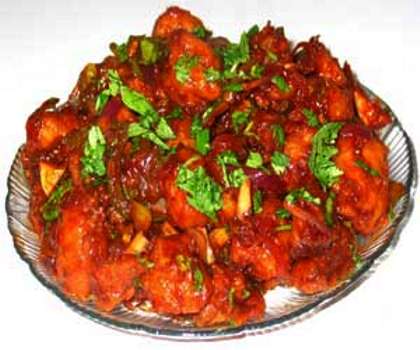 Preparation time: 20 minutes
Cooking time: 20 minutes
Servings: 4
Ingredients:
250 gm cabbage grated
1 cup carrot grated
2 capsicums finely sliced
1 cup cauliflower chopped
1 cup spring onions chopped
3 green chillies finely chopped
1 inch ginger minced
4-5 cloves garlic chopped
2 tbsp cornflour
2 tbsp all-purpose flour (maida)
1/2 tsp soya sauce
1 tsp red chilli sauce
1/2 tsp vinegar
1/2 tsp black pepper powder
1/4 tsp white pepper powder
1/2 tsp sugar
1 cup cornstarch (mix 1 tbsp cornflour in 1 cup of water)
Salt to taste
Oil for frying and cooking
How to make Vegetarian / Vegetable Manchurian :
Combine the carrot, cabbage, capsicum and cauliflower.
Tie all the veggies in a muslin cloth and squeeze out the juice as much as you can.
Now mix the green chillies, salt and pepper powder in it.
Add cornflour and maida, mix well.
Make small oval or round shaped balls from the prepared mixture.
Heat good amount of oil in a pan and deep fry the prepared balls until golden brown.
Drain on oil absorbent paper and set aside.
Now heat 1 tbsp of oil in another pan and add ginger and garlic.
Saute for few seconds and then mix the spring onions, sugar, sauces and vinegar.
Stir continue and add cornstarch.
Mix well and let the gravy comes on few boils.
At this moment, add the fried balls and stir in very gently.
Add water as per required consistency.
Serve immediately with fried rice.
Chef Tips:
You can chop the veggies either in the chopper or in the food processor.
At the end, these delicious vegetable Manchurian can be garnish with chopped cilantro.