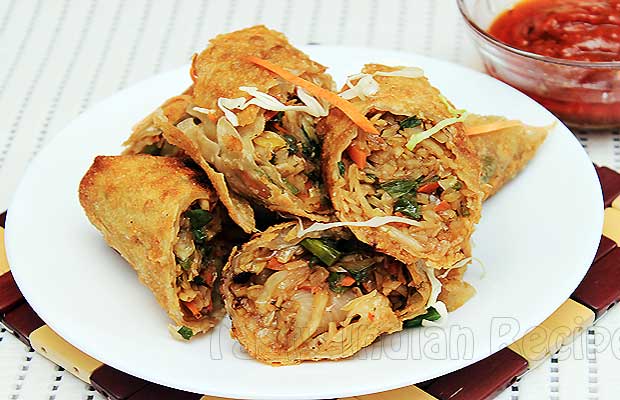 Spring Roll is a simple yet elegant Chinese snack dish, made with all purpose flour and stuffed with lots of tasty and healthy vegetables. The delicious, crispy and spicy spring rolls is the perfect dish for the Chinese foodies and Chinese cuisine lovers.
Prep time:
Cook time:
Total time:
Yield: 4 servings
Ingredients:
3 cups maida (all purpose flour)
1 cup carrot shredded
1 onion thinly sliced
1 cup cabbage shredded
1 green bell pepper grated
1 inch ginger chopped
5-6 cloves garlic minced
3 green chillies thinly chopped
1/2 tsp white pepper powder
1 tbsp soya sauce
Salt as per taste
Oil to fry
Water
How to make Spring Roll:
Mix the flour and salt and make a smooth batter by adding water.
Heat 1 tbsp oil in a non-stick pan and add the flour batter.
Stir continue to break the lumps and cook until the batter turns into golden color just like a pancake mixture.
Allow to cool aside.
Heat 2 tbsp of oil in another non-stick pan.
Add ginger-garlic and green chillies.
Saute for few seconds and stir fry the chopped vegetables with little bit of salt and white pepper powder.
Cook until vegetables are crispy and tender.
Add soya sauce and cook for 2 more minutes.
Keep aside to cool completely.
Now when pancake mixture is cooled down, start preparing small balls from it.
With the help of rolling pin, try to make a small round shaped roti from each ball. Dust dry flour if required.
Divide the prepared stuffing and fill in each pancake.
Fill about 2 tbsp of prepared stuffing on the center and fold from all the sides.
Fold to make a tight roll and seal the edges by using dry flour or cornstarch.
Make all the rolls in similar way. (Sometimes I make samosa shaped spring rolls as well).
Deep fry few at a time in hot oil until become crispy.
Remove on paper napkin.
Enjoy yummy Chinese spring rolls with chutney and schezwan sauce.
Chef Tips:
For making delicious spring rolls you may add your favorite vegetables.
For making the tight rolls, mix a tbsp of maida with 4 tbsp of water, make a paste and use to seal the edges of a roll.