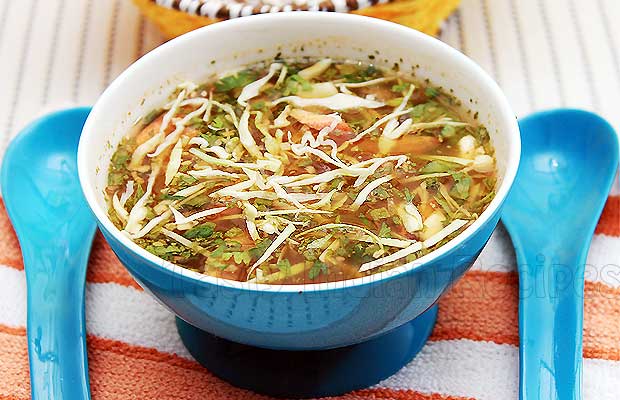 Vegetable Hot and Sour Soup is a spicy and tangy combination of veggies and Chinese sauces. It is one of the famous Chinese soup recipes. Its taste and flavor is unique because of sourness of soy sauce and chillies. It consists ginger and pepper which is best to control appetite. You can add vegetables of your choice to make  this Indian style Chinese recipe.
Preparation time: 5 minutes
Cooking time: 10 minutes
Servings: 2
Ingredients:
1 tbsp carrot grated
1/8 cup cabbage grated
1 tbsp capsicum cut into slices
1 tbsp spring onions (white part) finely chopped
2 tbsp spring onions (green part)
1 inch ginger finely chopped
1 tsp soy sauce
1 tsp red chilli sauce
1/2 tsp vinegar
1/2 tsp cornflour
1/2 tsp pepper powder
1/4 tsp sugar
1 tsp olive oil
Salt to taste
3 cups of water
How to make Vegetable Hot and Sour Soup:
Heat up a pan, add oil.
As oil heats add ginger and saute on low heat.
Add water, soy sauce, chilli sauce and stir until 2-3 boils come.
Add all the vegetables, salt, sugar, pepper powder and cook on medium high heat for 2-3 minutes.
Now dilute the cornflour in 1/2 bowl of water and mix into the soup.
Stir constantly until soup become thick in consistency.
Add vinegar and cook for 2 more minutes.
Finally add green spring onions and serve hot.
Chef Tips:
This soup tastes great if is to be served immediately.
You can prepare the stock first and can add the veggies later while serving.
You can add baby corns, green peas, panner and other vegetables of your choice to make it more flavorful.