Chilli Chicken Recipe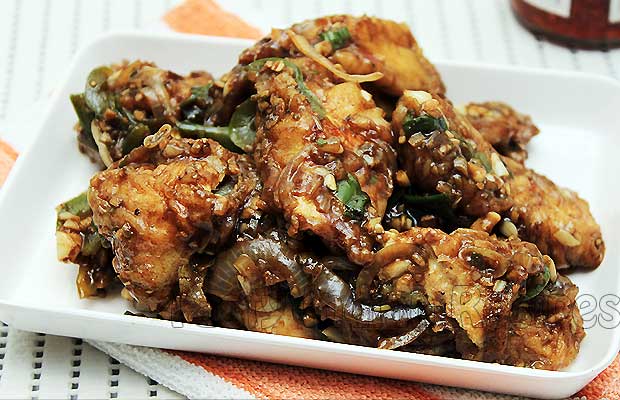 Chilli Chicken is a mouth-watering Indo Chinese chicken recipe, here fried chicken is cooked in the combination of Indian vegetables and Chinese flavors and turns into delicious and simply irresistible main course dish, which can be also served as a starter.
Prep time:
Cook time:
Total time:
Yield: 6 servings
Ingredients:
400 gms chicken (boneless and skinless)
2 eggs
4 tbsp cornstarch
2 tbsp dark soya sauce
4 green chillies thinly chopped
4 cloves garlic minced
1 tsp ginger paste
2 tbsp white spring onions chopped
1 normal onion, sliced
2 tbsp green spring onions chopped
1/2 tsp pepper powder
1/4 tsp ajinomoto
1/2 tsp castor sugar
2 cups chicken stock
1 tsp vinegar
2 tbsp oil
Salt as per taste
How to make Chilli Chicken :
Beat the egg in a bowl and keep aside.
Chop the chicken into medium size chunks and keep aside.
Combine cornstarch, beaten egg, salt, pepper powder and soya sauce.
Mix well and add chicken pieces.
Coat the chicken very well into the mixture and keep aside for 15-20 minutes.
Heat sufficient oil in a pan and deep fry the chicken until turns golden brown.
Remove on oil absorbent paper and keep aside.
Heat 1 tbsp of oil in another pan, add green chillies, minced garlic and ginger.
Saute for few seconds and add white spring onion along with normal sliced onion.
Stir with chicken stock and vinegar.
Add salt, sugar and ajino motto.
Mix very well until starts boiling.
Add fried chicken and cook for 4-5 more minutes.
Finally add green spring onions and serve hot with fried rice.
Chef Tips:
You can serve chilli chicken with steamed rice as well.
If the gravy looks too watery then dissolve a tsp of cornflour in 2 tbsp of water, mix well and add into the curry to make the thick consistency of the dish.
You may add chopped carrot, celery and broccoli to make it more flavorful.