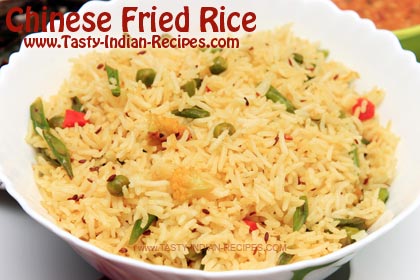 Chinese Fried Rice is the special Chinese delicacy, where basmati rice are cooked in various healthy vegetables and spiced up with delicious Chinese sauces and spices. It is one of the most wonderful main course recipe, acquires popularity in all over world.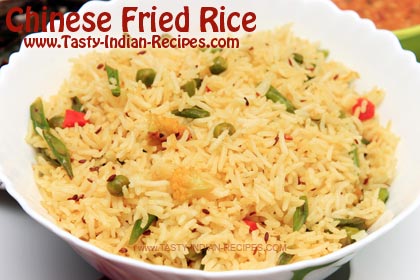 Preparation time: 5 minutes
Cooking time: 10 minutes
Servings: 6
Ingredients:
2-1/2 cups basmati rice
1 cup carrot thinly chopped
1 cups white spring onions thinly chopped
1 cup french beans thinly chopped
2 tbsp celery chopped
1/2 cup broccoli chopped
2 green chillies thinly chopped
1 cup green spring onions thinly chopped
1 tbsp garlic chopped
1/2 tsp cumin seeds
A pinch of white pepper powder
1 tbsp dark soya sauce
1 tbsp vinegar
Salt to taste
2-1/2 tbsp oil
How to make Chinese Fried Rice:
Soak the rice in 4 cups of water for about half an hour.
Boil by adding little bit of salt.
Boil on high heat for first 5 minutes and then lower the heat until rice tenders.
Drain and refresh with cold water. Keep aside.
Heat the oil in a non-stick pan and add cumin seeds, green chillies and chopped garlic.
Saute for few seconds and add chopped vegetables except green spring onions.
Stir with salt and pepper powder.
Toss and cook on medium high heat until veggies become crispy and tenders.
Add boiled rice, soya sauce and vinegar.
Toss and garnish with green spring onions.
Cook for 4-5 minutes on medium high flame by stirring twice.
Serve piping hot.
Chef Tips:
You may add veggies of your choice to make mouth melting Chinese fried rice.
This is the best option to serve with vegetable manchurian recipe or paneer manchurian recipe.
Use normal onion if spring onion is not available.
For making rice more spicy add red chilli sauce.
Use big wok for making restaurant style Chinese fried rice and toss very well to blend the flavors.
If you do not get broccoli, then too, go ahead with other tasty vegetables.
Fried tofu (paneer) can be added in Chinese fried rice.