Vegetable 65 is a wonderful Chinese Starter, made with Mixed Vegetables and flavored with Vinegar, Soy Sauce and Chilli Sauce. It's an amazing combination of Indian vegetables and Chinese Sauces. Crispy and crunchy balls are deep fried and then mixed into a little gravy of cornstarch.
Actually the name vegetable 65 is because, here mixed vegetables are cooked 65 style. Now what is 65 style? Somebody told me, It's an Indian style, which means it has 65 ingredients. But don't worry, I have made it a bit simpler for you and used very less ingredients with the same great taste.
Veg 65 is my favorite dish in my Chinese meal menu. Whenever I make Schezwan Fried Rice or Hakka Noodles, then I most often make this dish for the starter. My whole family enjoys this best Chinese combo.
It's a unique and kid friendly recipe and Mom's can have one more option for their kids. You can also serve it as a Snack dish.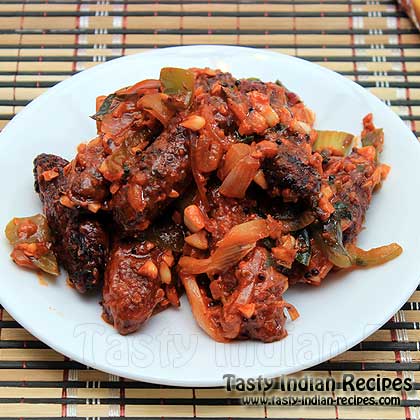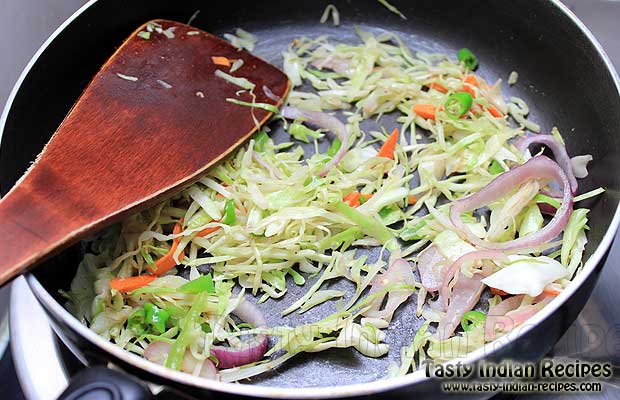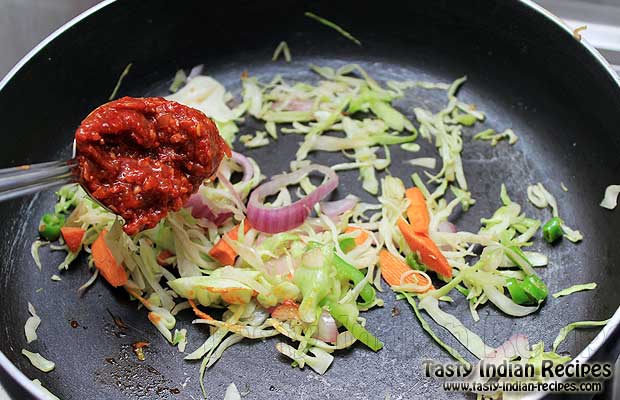 How to make Vegetable 65 Recipe:
Vegetable 65 Recipe is a wonderful Chinese Starter, made with Mixed Vegetables and flavored with Vinegar, Soy Sauce and Chilli Sauce.
Ingredients
1 cup cauliflower
1/2 cup cabbage
1 medium capsicum
1/2 carrot
1/2 zucchini (if available)
2 medium potatoes, boiled
1 onion, sliced
1/2 cup green bell pepper, sliced
1/2 teaspoon carrot, sliced
1 tablespoon cabbage, shredded
1 tablespoon ginger, chopped
1 tablespoon garlic, chopped
2 green chillies, fine chopped
1/2 teaspoon cumin seeds
1/2 teaspoon soy sauce
1/2 teaspoon red chilli sauce
1 teaspoon vinegar
1/12 teaspoon white pepper powder
2 tablespoon maida
1 tablespoon cornflour
1/10 teaspoon red orange food color
Few Spring onions (for garnishing)
Salt to taste
Oil for deep frying
Instructions
Mash the boiled potatoes in a bowl and keep aside. Mix the cornflour in 1 cup of water and set aside. Chop the cauliflower, cabbage, capsicum, carrot and zucchini into very fine pieces. You can chop them in chopper as well. Mix salt and white pepper powder in it.
Add mashed potatoes in veggies mixture and make small oval shaped balls from it.
Heat good amount of oil in a frying pan and keep the flame very low.
Take maida in a small bowl and gradually add water for making a medium thick batter. Coat the vegetable balls in prepared mixture and deep fry in hot oil.
Drain and keep aside.
Heat 1 tablespoon of oil in another pan and add cumin seeds. When the seeds start to pop up, saute the sliced onion.
The moment the onion is almost translucent, add ginger, garlic and green chillies. Also mix sliced capsicum, carrot and cabbage. Stir fry on a high flame. Add cornstarch and mix well.
After a quick boil, add fried balls, salt and sauces. Mix in little water and food color.
Mix in green spring onions and cook for 2 more minutes and serve.
Notes
Vegetable 65 must be served immediately. If you are making it for your kids, then add less spices and skip red chilli sauce.
Tasty Indian Recipes
 Chef Tips:
Sometimes you can serve only fried balls with your evening tea. They tastes really delicious.
You can add different colors of bell pepper in gravy.
You can even keep the fried balls ready in advance and just mix them in quickly made gravy.
Gravy can not be made in advance, as it becomes thick because of cornstarch.