Veg Schezwan Fried Rice Recipe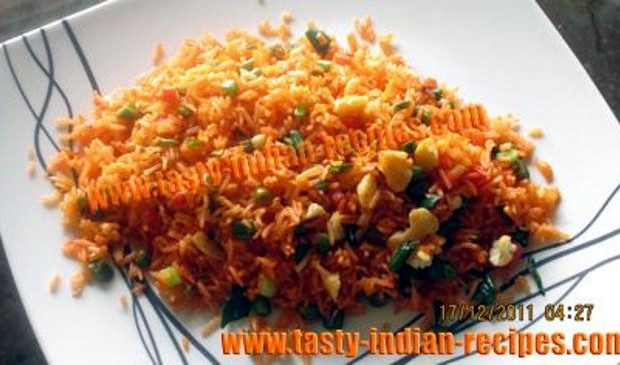 Vegetarian Schezwan Fried rice is one of the quick Indo-Chinese Cuisine. A Chinese Meal without Schezwan Fried Rice is just incomplete. My husband likes Schezwan Fried rice a lot and ready to eat even if i will cook it on daily basis. Usually it is to be served as a main course in Chinese meal. We are going to show you all the images to make it more easy and more quick.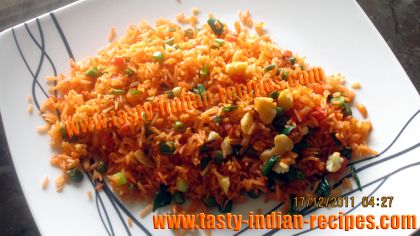 Preparation time: 15-20 minutes
Cooking time: 10 minutes
Servings: 2-3 persons
Ingredients:
For making Schezwan Sauce you require:
15-20 pieces garlic finely chopped
1 inch ginger chopped
8-10 dry red chillies (Soak chillies in the water for half an hour, remove the seeds, add some water and blend into a fine paste)
1 tsp red chilli sauce (available in the store)
1/2 tsp soy sauce
A pinch of sugar
1/2 tsp white pepper powder
1 tsp vinegar
1 tsp oil
salt to taste
For making Fried Rice you require:
2 cups rice
1 small bowl french beans finely chopped
1 small bowl carrot finely chopped
1 small bowl cauliflower finely chopped
1/2 bowl spring onions(white part) finely chopped
1 small bowl of spring onions(green part) finely chopped
1/2 tsp red chilli sauce (available in the stores)
1 tsp garlic chopped
1 tsp vinegar
1/2 tsp white pepper powder
2 tsp oil
1/2 tsp red orange food color
salt to taste
How to make Schezwan Sauce:
Heat up the cooking oil in a wok.
Add garlic, saute well.
Add ginger and saute together with the garlic.
Add red chilli paste and saute well till it turns into light brown color.
Add red chilli sauce, soy sauce, salt, white pepper powder and fry this mixture well, till oil separates.
Now add sugar and vinegar, continue to stir.
Fry this mixture for 2 minutes.
Add water by checking the consistency of sauce and cook for 4-5 minutes on low flame.
Schezwan Sauce is ready for making Schezwan Fried Rice.
How to make Schezwan Fried Rice:
Chop all the veggies and keep aside in separate bowls.
Boil the rice in 4 cups of water.
Drain the water fully and keep them in the strainer.
Arrange all the ingredients required to make schezwan fried rice, we need to put all of them one after another.
Heat up the same wok and add oil.
As oil heats add chopped garlic and saute till garlic turns into light brown color.
Add white part of spring onion, carrots, french beans and cauliflower, mix all together.
Add salt, white pepper powder and schezwan sauce.
Cook all the veggies in sauce and spices for 2-3 minutes.
Add 1/2 tsp of vinegar and 1/4 tsp of red orange color, mix and toss.
Now sprinkle boiled rice all over on the top of the veggies, add salt and mix gently.
Add remaining vinegar, red chilli sauce, 1/4 tsp red orange color and toss immediately.
Finally add spring onion green all over the rice, mix well and stir for 2 minutes.
Schezwan Fried Rice are ready to serve hot.
Chef Tips:
If you can not make Schezwan Sauce at your home then bottled one is easily available in the market.
You can keep home made Schezwan sauce in refrigerator for couple of months, just need to keep it in air tight container or bottle.
While making the Schezwan Sauce consistency should be checked time to time and add water as per requirement. You can adjust water in Schezwan Sauce later while making other recipes.
You can add lots of other vegetables in Schezwan Fried Rice like capsicum, peas, cabbage and paneer.
These rice are best to serve with Vegetable manchurian or paneer manchurian.