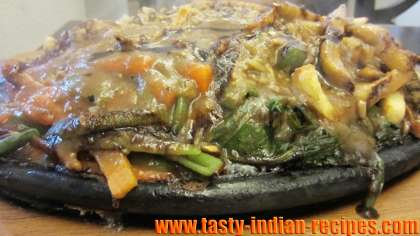 A piping hot and mouth melting Continental Veg Sizzler is fully plated with lots of healthy veggies and buttery rice. I have carefully flavored them with a quality red wine, some mild spices and homemade rich and creamy tomato sauce.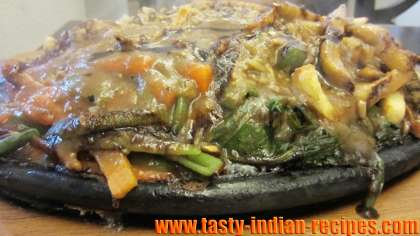 Prep time:
Cook time:
Total time:
Yield: 4 servings
Ingredients:
For making tomato cream sauce you will require:
6 big tomatoes (finely chopped)
6-8 cloves garlic (finely chopped)
1 onion chopped
1-1/2 tsp paprika (dry red chilli flakes) (easily available in market)
1/2 cup red wine (optional)
3 tbsp Amul fresh cream
1/2 cup thick tomato puree
3 tsp cooking oil
Salt to taste
For making rice you will require:
2-1/2 cups cooked basmati rice
4 tbsp parsley (finely chopped)
3 tbsp butter
1 small onion finely chopped
Salt to taste
For making cheese corn balls you will require:
1 cup fresh, sweet corn (boiled and crushed)
2-3 green chillies finely chopped
2 tbsp butter
3/4 cup milk
2 tbsp celery finely chopped
2 tbsp all-purpose flour (maida)
2 tbsp processed cheese
Salt to taste
Other ingredients :
1/2 cup all-purpose flour (maida) to coat the cheese corn balls
3-4 bread slices crumbs to coat the cheese corn balls
oil to deep fry the cheese corn balls
1 tbsp oil mixed with 1 tablespoon water
French fries (optional)
2 cups boiled, mixed vegetables (carrot, beans, cauliflower, tomato, green peas)
1 onion thinly sliced
2 tbsp butter
Salt to taste
Black pepper powder to season
2 sizzler plates, placed on a wooden base
How to make Continental Veg Sizzler :
Let's start preparing the rich and creamy tomato sauce first.
For that, first of all, heat the oil in small non-stick pan and stir fry garlic with onions for few seconds.
Now mix the tomatoes, tomato puree, salt, chilli flakes and wine.
Cook on medium high flame with a good toss until sauce thickens.
After few seconds, add about 3/4 cup of water and bring the sauce on few boils by gradually adding Amul Fresh cream.
Make sure the sauce must look thick and creamy.
Your rich, creamy sauce is ready to dazzle. But for now, keep the sauce aside and let's proceed further.
Now for making rice, melt the butter in a frying pan and saute the onions for few seconds.
Mix rice, parsley very well and adjust with some salt.
Toss and keep aside
Now let's make cheese corn balls, for that, melt butter in a separate non-stick pan and add flour.
Stir continue to avoid the lumps, that generally formed from the flour.
Keep stirring and add milk.
Cook for few seconds, till the mixture becomes thick and starts leaving the sides of the pan.
Cool the mixture aside and then add celery, green chillies, salt, cheese and crushed corn.
Knead the prepared corn mixture, just like any dough and try to make 10-12 equal sized balls.
Take 1 cup of water and dilute only 1 tbsp of cornflour to make a thin paste.
Now carefully dip the prepared corns balls one by one into prepared paste and roll with breadcrumbs.
In the same way, make all balls, coat with breadcrumbs and place in a bowl lined with a paper napkin.
Refrigerate these balls for few hours until sets.
You just need to deep fry these balls in hot oil until they are golden brown and then would be placing them on hot sizzling plate to serve immediately.
Let's proceed for the glazed vegetables, for that melt 1 tbsp of butter in a pan and saute thinly sliced onions until they are turned into light brown in color.
Add boiled and mixed vegetables and cook them on low flame for 5 minutes.
Now season the veggies with some salt and black pepper powder.
Set the cooked vegetables aside for the time being.
Let's proceed to the final step and that is plating or arranging the continental sizzler on sizzler plate.
Heat 2 sizzler plates over the gas stove, and wait for sometime until they are piping hot.
Now you can place these piping hot plates on their respective wooden base or trays.
Be careful, and use a thick cloth to place them, as they are very very hotttt.
Place few cheese corn balls on one side of a hot sizzler plate and arrange some cooked rice in the center of the plate.
Top with 2-3 tbsp of prepared tomato cream sauce and arrange the caramelized vegetables besides.
Arrange some french fries, as per your requirement.
Repeat with the remaining, left ingredients for making another sizzler.
Pour the oil-water mixture on the sides of the cast iron plates for a real sizzling effect, that blows in the air.
Serve immediately to enjoy.