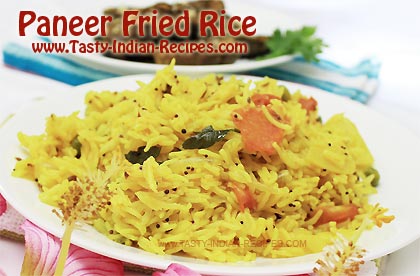 Paneer Fried Rice is a pampering preparation of paneer along with other favorite veggies cooked in the Chinese sauces and spices on the bed of Indian basmati long grain rice. It is one of the most popular recipe of Indo Chinese Cuisine. Even if it is not available in many restaurants then too you can enjoy this awesome meal at your home by making in just few minutes.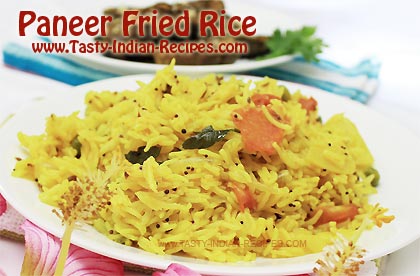 Preparation time: 5 minutes
Cooking time: 10 minutes
Servings: 4
Ingredients:
1-1/2 cup long grain rice
250 gms paneer cubes
1 big onion chopped
1/2 carrot chopped
1 cup cauliflower chopped
1 cup french beans chopped
1 cup spring onion (green part) chopped
1/2 tsp whole cumin (jeera)
4 green chillies chopped
6 cloves garlic minced
1/2 tsp soy sauce
1/2 tsp vinegar
1/4 tsp ajino motto
1/4 tsp pepper powder
vegetable oil
Salt to taste
How to make Paneer Fried Rice:
Soak the rice in 3-4 cups of water for about 20 minutes.
In the meantime deep fry the cubes of paneer until golden brown and place on paper napkin to strain the oil.
Boil the rice in the same water in which they were soaked.
Add salt and higher the flame until rice gets cooked.
Strain the boiled rice and keep aside.
On the other side heat up a wok and add 2 tsp of oil.
As oil heats then add cumin. Leave to crackle.
Do not leave cumin to get burn, just wait for 2-3 crackles.
Add green chillies, and minced ginger. Saute for a minute.
Add onion, carrot, cauliflower and french beans.
Add salt, soy sauce, ajino motto and pepper powder.
Toss and mix well. Cook for 3-4 minutes on high flame by stirring frequently.
Add fried paneer. Mix well.
Add vinegar and cooked rice.
Mix the rice well in paneer and other veggies.
Cook just for 2 more minutes and garnish with green spring onions.
 Chef Tips:
You can use grated paneer as well. But I personally like fried paneer cubes.
Veggies are optional here, you may add or not, its your choice but tofu (paneer) in good quantity is compulsory to add for enjoying paneer fried rice.