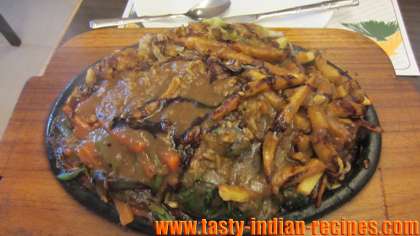 The sizzling Chinese Sizzler is one of the most loving dish in India. Chinese cuisine and Chinese sauces, combinely gives a heaven taste when served on hot sizzling plate.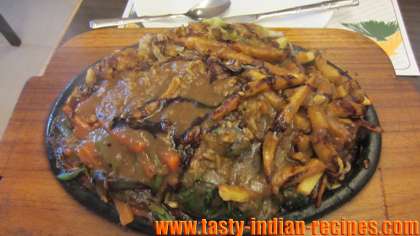 Prep time:
Cook time:
Total time:
Yield: 4 servings
Ingredients:
French Fries (optional)
Sizzler sauce
Few whole cabbage leaves
Sizzler plate.
For making the sauce you will require:
1/2 tsp soya sauce
1-1/2 tsp lemon juice
1-1/2 tsp sesame seeds
1 tsp sesame oil
2 tbsp butter
2 red chillies
Salt to taste
How to make Chinese Sizzler :
For making the sauce, melt the butter in a skillet and stir in with sesame oil.
Add sesame seeds and whole red chillies.
Saute for few seconds and add soya sauce, lemon juice and a pinch of salt.
Cook it for a while.
Allow the mixture to cool completely and then put into the blender.
Make a smooth and fine paste by adding little bit of water until it reaches to a sauce consistency.
Now take a sizzler plate and place it over the stove.
Spread the cabbage leaves all over the plate and let it heated for a while.
Now place a bowl of fried rice on one side and a bowl of noodles on the other.
Arrange the cooked Manchurian in the center along with its gravy.
Now the very important part is make it sizzle, for that put a dollop of butter on a hot sizzling plate and pour the prepared sauce over all on noodles and rice.
If you want, you can place some french fries as well. It's your choice.
Enjoy a yummy hot Chinese Sizzler.
Be careful while eating, it remains hottt…..for a long time.