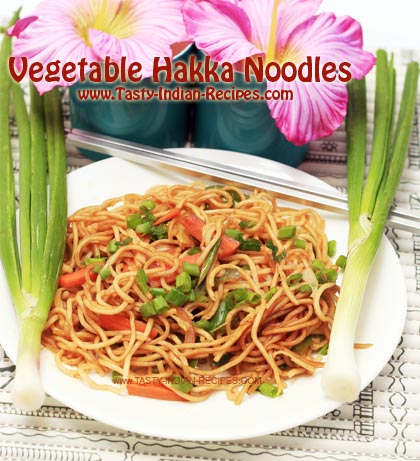 Vegetable Hakka Noodles is the all time favorite Chinese snack. Lots of vegetables are tossed with boiled noodles and special Chinese flavors. Follow the simple steps and make the restaurant style Chinese Cuisine in your own house. This Chinese dish is everyone's favorite and simply a delicious recipe, that can be cooked in just few minutes.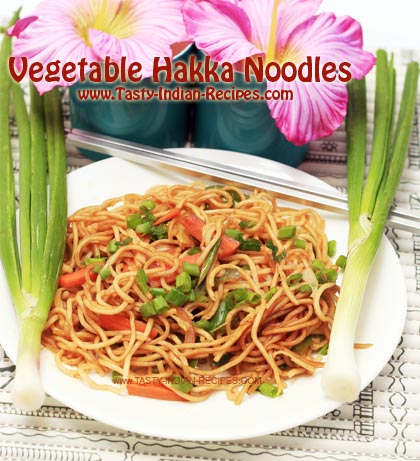 Preparation time: 5 minutes
Cooking time: 5 minutes
Servings: 4
Ingredients:
2 cups noodles (boiled)
1 cup white spring onions chopped
1-1/2 cups green spring onions chopped
1 cup carrot chopped
1 cup french beans chopped
1 cup cabbage chopped
1 cup cauliflower florets chopped
4 cloves garlic chopped
2 green chillies thinly chopped
A pinch of white pepper powder
1/2 tsp soy sauce
3/4 tsp vinegar
A pinch of cumin seeds
2 tbsp oil
Salt to taste
How to make Vegetable Hakka Noodles:
Heat  the oil in a wok and add cumin seeds.
Saute for few seconds and add garlic and green chillies.
Saute for few more seconds and add all the vegetables one by one except green spring onions.
Stir the veggies with salt and pepper powder.
Constantly toss on medium high fire until vegetables tenders.
After few minutes add boiled noodles.
Mix very gently and toss rapidly.
Finally stir the noodles with soy sauce, vinegar and green spring onions.
Cook only for few seconds and the restaurant style Chinese Hakka noodles are ready to serve.
Chef Tips:
If you are not able to toss the noodles, then mix them with the help of two spoons, but be careful and do not make them soggy or sticky.
A proper way to boil the noodles is, boil them in sufficient amount of water by adding little bit of salt, when they are 3/4 th done, then pass through sieve, refresh with cold water and finally keep them in cold water until your start cooking.
Carefully add the salt while making this dish, it's because already little bit of salt is added while boiling noodles.
You may add vegetables of your choice and can make it spicy by adding more green chillies.