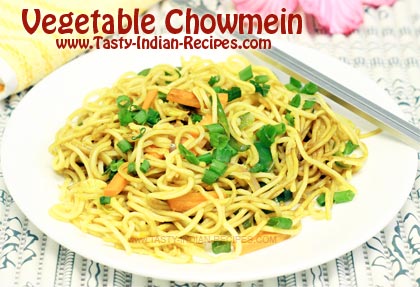 Vegetable Chowmein is an easy way to get all the nutrients of healthy vegetables and the benefits from the noodles. This dish is extremely tasty in eating when seasoned with pepper powder and vinegar. If you are making this dish, then it would be definitely worth to serve in front of the family and friends.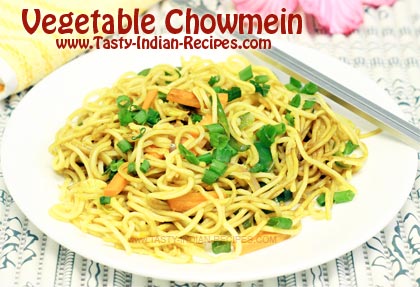 Preparation time: 5 minutes
Cooking time: 5 minutes
Servings: 2
Ingredients:
1 packet ready-made noodles
2 green chillies thinly chopped
1 inch ginger minced
1 cup cabbage grated
1 cup carrot grated
1 cup mixed bell pepper sliced
1 cup french beans chopped
1/2 cup celery chopped
1 cup white spring onions sliced
2 tbsp parsley chopped
2 tbsp dark soya sauce
1/2 tsp red chilli paste
2 tsp vinegar
A pinch of white pepper powder
A pinch of black pepper powder
Salt to taste
2-1/2 tbsp sunflower oil
How to make Vegetable Chowmein :
Boil the whole packet of noodles in sufficient amount of water, drain the whole water and keep aside.
Heat oil in a non-stick wok, add green chillies and ginger.
Saute for few seconds and mix the vegetables except parsley.
Add salt, pepper powder and red chilli paste.
Stir fry for 3-4 minutes on medium high heat.
Add boiled noodles along with soya sauce and vinegar.
Stir fry for few more minutes and garnish with chopped parsley.
Serve the dish piping hot.
Chef Tips:
At the time of boiling the noodles, add few drops of oil to make them non-sticky.
You may adjust the quantity of sauces and spices as per your taste.
Indian coriander, cilantro or green spring onions can be substituted with Chinese parsley.