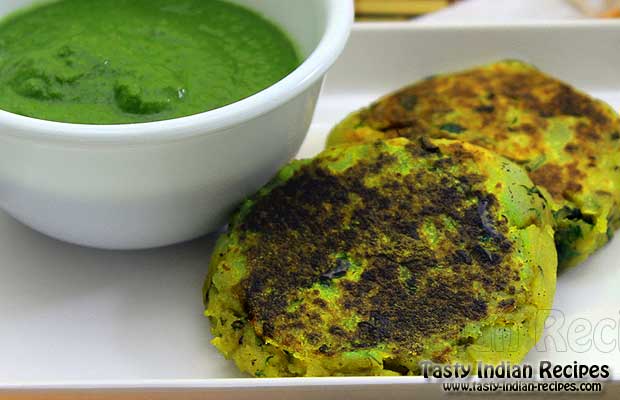 Palak Cutlets is a delicious snack recipe made with spinach, potatoes and spices. It is a perfect dish to serve in front of guests. Also it has its special place in cocktail and mock-tail parties. Learn to make tasty palak cutlets and try them in your own kitchen.
Preparation time: 10 minutes
Cooking time: 15 minutes
Servings: 8
Ingredients:
1 bunch of spinach (palak) chopped
4 boiled potatoes (peeled and mashed)
6 bread slice crumbs
8-10 green chillies
2 inch piece of ginger
8-10 cloves garlic
100 gms paneer (cottage cheese)
4 cubes of processed cheese
1/2 tsp red chilli powder
1/4 tsp turmeric powder
1 tsp garam masala powder
1/2 tsp cumin powder
1/4 tsp dry mango powder
Salt to taste
Vegetable oil
How to make Palak Cutlets:
Wash the spinach thoroughly in normal running water.
Boil the spinach in its own water and add little bit of salt.
Spinach will boil in round about 8-10 minutes. Leave to cool.
In a blending bowl add boiled spinach, green chillies, ginger and garlic cloves.
Make a green paste.
In a mixing bowl add mashed potatoes, green paste of palak, salt, red chilli powder, turmeric powder, garam masala powder, cumin powder and dry mango powder.
Mix all the ingredients well and add bread crumbs.
In a bowl grate the paneer and cheese. Mix well.
Heat up a pan and add sufficient oil to deep fry the cutlets.
Apply a little bit of oil in your palms and take a small portion of cutlet dough.
Make a round and do a small hole in the center, fill 1/4 tsp stuffing of paneer and cheese.
Cover the cutlet and then give the round or oval which ever shape you want to give to your cutlets.
In the same way make other cutlets as well.
Deep fry only two cutlets at a time in a frying pan.
Fry on low flame for few seconds and then higher the flame.
Wait for few seconds and then flip the cutlet and fry from other side as well.
Take out from the oil and serve with green chutney or tomato sauce.
In this way fry all the cutlets and serve 2-4 on individual plates.
Chef Tips:
The easy way to make bread crumbs is that, take the bread slices, grind them in the mixture grinder and then add in the dough of cutlets. In this way your cutlets will get a good shape.
If the stuffing of paneer and cheese is not done properly then do not waste your cutlet, just give a shape and then deep fry. In this way also they will taste good.
The reason behind frying 2 cutlets at a time is to avoid the sticking of cutlets because of cheese and paneer.