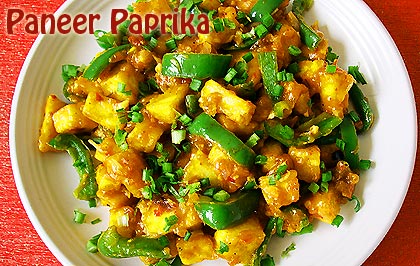 Paneer Paprika is the blend of cottage cheese cooked in various bell peppers and tossed with the paprika powder and paprika sauce. This is the starter dish taken from the treasure of Chinese Cuisine. Paneer is simply cooked in various Chinese sauces and spread its flavor all around along with fragrant veggies.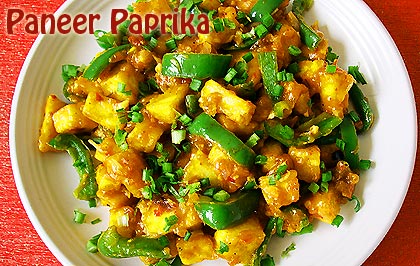 Preparation time: 2 minutes
Cooking time: 5 minutes
Servings: 6
Ingredients:
400 gms paneer cubes
1 green bell pepper slices
1/2 yellow bell pepper slices
1/2 red bell pepper slices
1 tbsp garlic chopped
1 cup cabbage shredded
1/2 tsp soy sauce
2 tbsp paprika sauce
2 tbsp tomato sauce
1 tsp vinegar
1/4 tsp pepper powder
2 tbsp canola/vegetable oil
Salt to taste
How to make Paneer Paprika:
Heat oil in a wok, add chopped garlic. Saute until garlic is cooked well.
Add bell peppers and shredded cabbage. Adjust with the salt.
Cook for about 2 minutes by stirring constantly.
Now add all three sauces and pepper powder.
Mix well and add 1/2 cup of water.
Cook until oil start touching the sides of the pan.
Add paneer and vinegar. Mix well.
Check the seasoning and adjust the salt and spices as per your taste.
Cook for 2 more minutes and serve hot.
Chef Tips:
If you like more spices then you may add slices of green chillies as well.
Paprika sauce is easily available in the market, test it before using, because it has content of salt and spices.