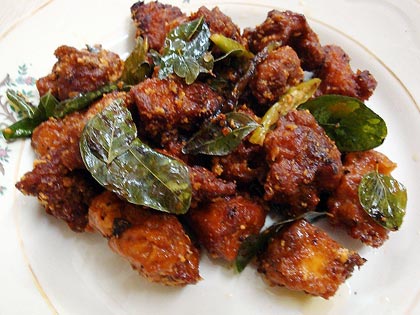 Shanghai Chicken in the special Indian style preparation of making chicken in Chinese sauces along with Indian herbs and seeds and then served with the garnishing of spring onions. It is a unique non-vegetarian appetizer from the list of Chinese recipes. The Indo Chinese dish is really meant and irresistible when cooked in the combination way.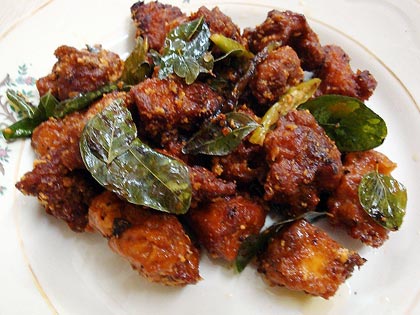 Preparation time: 10 minutes
Cooking time: 15 minutes
Servings: 4
Ingredients:
400 gms chicken boneless
8-10 cloves garlic chopped
1 inch ginger chopped
8-10 green chillies chopped
1 onion chopped
2 cups spring onions green part finely chopped
1/2 tsp poppy seeds
1/2 tsp sesame seeds
1/2 tsp peppercorns crushed
2 tbsp cornflour
1/2 tbsp all purpose flour (maida)
2 eggs
1 tsp sugar
1 tbsp soy sauce
1/2 tsp red chilli sauce
1 tsp vinegar
4 tbsp tomato sauce
1 tsp butter
Oil for deep frying
Salt to taste
How to make Shanghai Chicken:
Wash the pieces of chicken thoroughly in normal running water and then keep in luke warm water for about 5 minutes.
Transfer the chicken in the strainer for few minutes to drain out the water fully.
In a mixing bowl add cornflour, maida, salt, crushed pepper and beat the eggs. Mix well.
Coat the pieces of chicken in the mixture and deep fry 2-3 pieces at a time in hot oil.
Fry until chicken pieces turn into nice golden brown color.
Remove and keep on paper napkin.
Heat up a wok and melt the butter.
Add poppy and sesame seeds. Stir for few seconds.
Now add ginger and garlic. Saute well.
Add chopped onion along with green chillies.
Sprinkle salt and sugar. Cook on medium high flame.
Cook for 3-4 minutes until onion looks transparent.
Add tomato sauce, red chilli sauce and 1 cup of water. Mix well.
Simmer the flame and cook until sauce become medium thick.
Add fried chicken, vinegar and chopped spring onions.
Cook only for 2 more minutes on low flame.
Serve piping hot as a tastiest Chinese Starter.
Chef Tips:
Once I used coriander to garnish this dish, it tasted really good. You can try the same.
Serve this dish immediately after cooking because if the longer you will keep, the thicker it will become.
You may use whole chicken as well.
Do not throw the chicken stock, use it in the same recipe if you want more gravy.