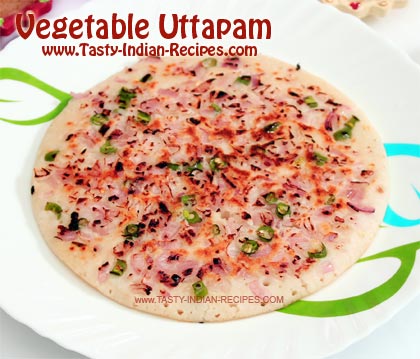 Vegetable Uttapam is a tiny, thick dosa stuffed with vegetables of your choice and then served with chutney and sambhar. The spices, veggies and flavors can be adjusted as per the tongue taste. The word Uttapam or Uttapa is actually originated from South Indian recipes, and this uttapam is a great snack dish from the special menu of South Indian dishes.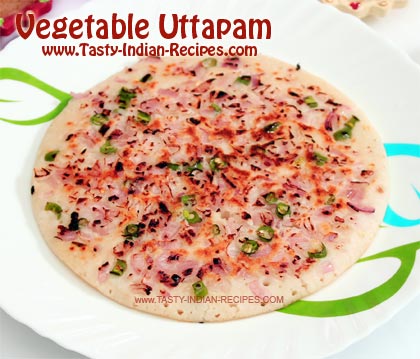 Preparation time: 10 minutes
Cooking time: 5 minutes
Servings: 6
Ingredients:
For making batter you need:
3 cups rice
1 cup urad dal
Salt to taste
1 tsp oil
Water
For filling you need:
1 big onion chopped
1 tomato chopped
1 green bell pepper chopped or sliced
1 big beetroot boiled and peeled
5-6 green chillies chopped
Fresh coriander leaves chopped
Salt to taste
1 cup oil or butter
How to make Vegetable Uttapam:
Soak the rice and dal individually for about 10-12 hours or overnight in the water.
In the morning grind them to make a smooth paste.
Add water if require while grinding. But make sure the batter should be medium thick in consistency.
Add salt and oil in the batter and mix well.
Heat the non-stick tawa on medium high flame and drizzle little bit of oil.
Spread a spoonful batter on the heating tawa and sprinkle oil on the edges.
Now you may start putting vegetables one by one also sprinkle little bit of salt.
Drizzle little oil on top of the veggies.
Here you may use butter as well. Leave to cook for 1-2 minutes or until you observe the golden edges.
Simmer the gas and turn the uttapam.
Again drizzle few drops of oil and leave for 1-2 more minutes.
Take out from the tawa and serve on the plate.
Serve on the spot with sambar and coconut chutney.
In the similar way make all the remaining uttapam's from the batter.
Chef Tips:
You may add veggies of your choice.
If you are making uttapam on non-stick tawa, then you do not need to wipe it with water again and again. But if your tawa is normal then before pouring batter always wipe it by drizzling water to avoid the stickiness of batter.
Kids usually like this uttapam with the tomato sauce.
I have added boiled beetroot to get a good color and taste of uttapam, otherwise it is optional.
Try to make small, soft and thick uttapam's.