Rava Kichadi or Khichadi is one of the most famous Breakfast recipe in South India. It can be easily made at home with Rava (Sooji), Vegetables and Spices. It is really a mouth-watering dish that can be served for any meal of the day. You can enjoy it at the time of breakfast, lunch or even at dinner. I generally like to make it at the time of breakfast and we all enjoy this with a cup of tea.
Rava Khichadi is a comfort Indian food and here Rava/Soojji/Suji is a key ingredient. Sometimes when you want to eat something like rice but not exactly any rice dish then you can substitute it with rava. Khichadi made from rava is generally light in eating compare to khichadi made with rice.
You can add some ghee in this Kichadi Recipe, Rava turns moist after adding little ghee
In India, if you will attend the South Indian weddings, you will observe that this rava kichadi is most probably served with sambar and chutney. It tastes superb and people really enjoy it. It is quick and very tasty, hence you can pack it for your kids School Tiffin or Lunch Box as well.
South Indians use Rava in most of their recipes, such as for making Rava Dosa, Rava Kesari and many more. Let us show you how to make this quick, tasty and easy South Indian Breakfast at home.
Adding semolina to your diet also helps you reach your daily recommended iron intake . A serving of semolina also contains 5.3 grams of protein, which nourishes your skin and muscles. Semolina is naturally low in fat, and each serving contains approximately one-half of a fat gram.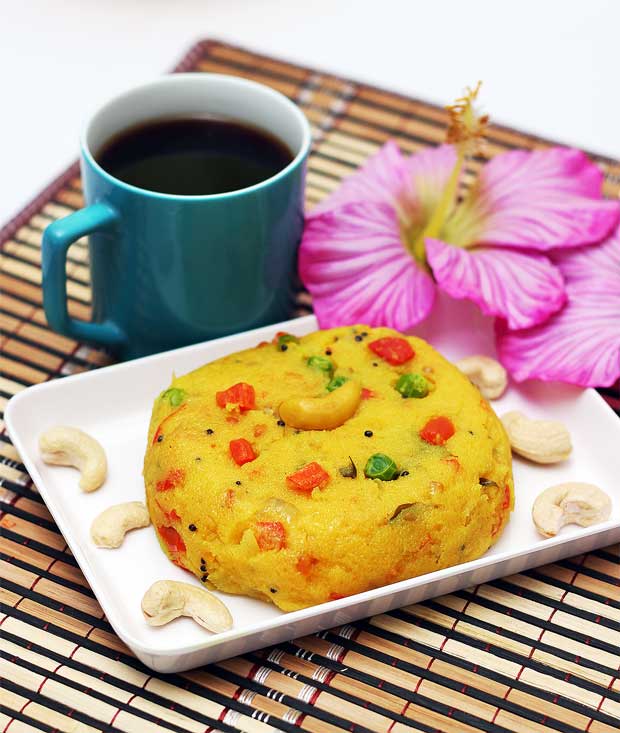 How to make Rava Kichadi Recipe / Semolina (Sooji) Khichdi Recipe:
Rava Kichadi Recipe / Semolina (Sooji) Khichdi Recipe
Rava Kichadi Recipe is a famous South Indian Breakfast made with Rava, Onion, Tomato and Spices. You can make it more flavorful by adding some Ghee.
Ingredients
1 cup Rava (Suji/Sooji/Semolina)
2 green chilies
1 onion
1 tomato
1/2 teaspoon mustard seedes
1/4 teaspoon urad dal
1/4 teaspoon chana dal
1/2 tablespoon carrot, chopped
1 tablespoon green peas
Few curry leaves
Few cashew nuts, blanched
1/2 teaspoon turmeric powder
1/4 teaspoon ghee (optional)
2 teaspoon cooking oil
Salt to taste
3 cups water
Instructions
Roast the rava in a pan on low flame and keep stirring so that rava should not change its color. We just want to remove out the raw flavor of it. Keep it aside.
Chop the onions, green chilies, tomato and carrots finely, also blanch the cashew nuts and keep aside.
Heat 2 teaspoon oil in a pan and add 1/4 tsp urad dal, 1/4 tsp chana dal and 1/2 tsp mustard seeds. Saute for a few seconds and then add curry leaves, 2 chopped green chilies and few blanched cashew nuts. Cook the mixture on very low flame and roast till dals turn golden brown.
Now mix in chopped onion and cook till it becomes little soft. Add chopped tomato, 1/2 tbsp carrot and 1 tbsp green peas.
Mix in 1/2 tsp turmeric powder and salt to taste.
Saute vegetables for a couple of minutes and then add 3 cups water into it. Let the water boil nicely.
Once the water starts boiling, keep the flame low and add the roasted rava to this. Mix it evenly without any lumps.
Keep the flame low in throughout the cooking and cook for 5-6 minutes till rava gets completely cooked. Finally add 1/4 tsp ghee and mix well.
Cook for one more minute. Rava becomes moist after adding ghee.
Serve it hot.
Notes
Addition of ghee gives a wonderful flavor to this kichadi. If you do not like ghee then you can skip it. You can garnish this kichadi with freshly chopped coriander leaves. In South India, this Rava Kichadi is generally served with Coconut Chutney, Sambar or with a simple Pickle. Sometimes rava needs some more water to gets cooked, it really depends upon the quality of rava, in such situation, always keep 1/2 cup of warm water aside so that in case if rava needs more water then you can add it after adding the rava. You can add chopped potatoes and beans in it.
Tasty Indian Recipes