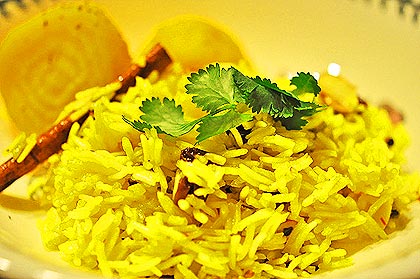 Sweet Rice is a special dessert made with the basmati rice, sugar, coconut, black raisins and many more flavored ingredients. This dish is specially made for celebrating Chetichand, a big festival or a new year of lovely Sindhi community. The great main course dish to be served with sai bhaji (spinach) or bhee aloo.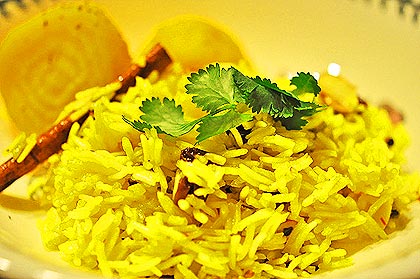 Preparation time: 10 minutes
Cooking time: 20 minutes
Servings: 6
Ingredients:
2 cups basmati rice
5 cups water
1 cup small sugar
1 tbsp fennel seeds
2 green cardamoms crushed
2-3 black peppercorns
2 tsp dried coconut slices (khopra/kopra)
3 tbsp black raisins (dhaakh)
2 tbsp ghee
Few drops food color (orange/red/yellow)
2 tbsp mixed nuts chopped (almonds, cashew nuts, pistachio)
Few saffron strands (soaked in 1 cup milk)
1/2 tsp salt
How to make Sweet Rice:
Wash and soak the rice in normal water for about 20 minutes.
Meanwhile heat a big vessel and melt the ghee.
Add crushed cardamoms, fennel seeds and peppercorns.
Saute for few seconds, now add slices of coconut, black raisins and water.
Mix well and add sugar.
Stir until sugar dissolves completely.
Now add soaked rice along with the water.
Stir with the salt, cook on high flame for 4-5 minutes.
Simmer the gas and add food color and saffron with the milk.
Mix well, cover the vessel when 3/4th water is evaporated.
Finally mix with the chopped nuts.
Serve hot with Sindhi sai bhaji. WOW! YUMMY!
Chef Tips:
It would be advisable to use orange food color, it's because sweet rice gets a nice and attractive color.
If you are using powder form of food color, then dilute it in the water and then mix in the rice, so that it will spread evenly in whole rice.
The another way of making this delicious sweet rice is, boil the rice first and then mix with remaining ingredients.
You can use nuts and dry fruits of your choice.
Sugar can be substituted with jaggery (gur).