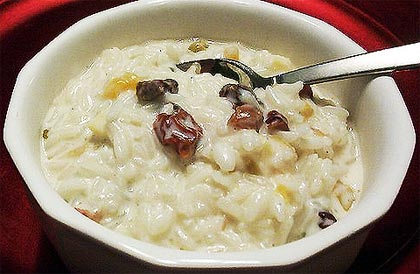 Rice Pudding is made with the combination of cooked rice, milk, sugar, cream and dry fruits. This is one of the most common dessert recipe, which is a delightful treat for almost every Indian family. The flavorsome ingredients produces a wonderful taste to the left over cooked rice.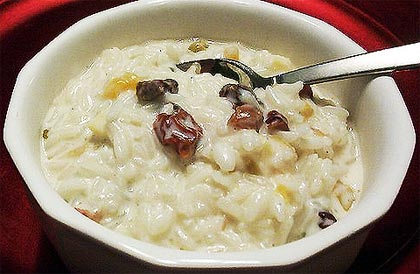 Preparation time: 10 minutes
Cooking time: 20 minutes
Servings: 8
Ingredients:
2 cups rice (long grained)
500 ml milk
2 cups small sugar
1/2 tbsp vanilla extract
1 cup thick fresh cream
2 green cardamoms crushed
1 cup mixed nuts chopped (almonds, cashew nuts, pistachios)
Few raisins
A pinch of salt
1 tsp ghee
How to make Rice Pudding:
Wash and clean the rice in normal running water.
Heat a big pot on the gas and melt the ghee.
Saute the crushed cardamoms just for few seconds.
Add milk, sugar, rice, vanilla extract, salt and fresh cream.
Mix well and cook on high flame for 3-4 minutes.
Now simmer the gas and cover the pot with the tight lid.
Leave to cook until rice becomes tender and milk gets absorbed fully.
It will take about 6-7 minutes.
Garnish with mixed nuts and raisins in individual bowls at the time of serving.
Chef Tips:
Rice pudding are extremely delicious when are to be served immediately.
You can give a little flavor of bay leaf also.
I have cooked rice along with the mixture of milk, whereas sometimes I make this yummy pudding from the leftover cooked rice also, trust me the taste is always great.