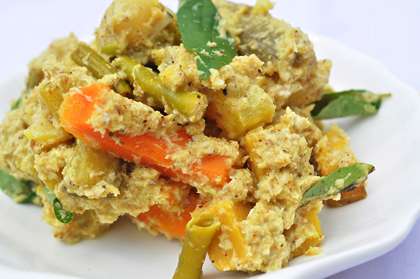 Aviyal is a traditional Kerala Style special veggie delight, that is mostly cooked in combination of various healthy vegetables, cooked with bananas and spices turns into delicious and famous main course dish, that is best to serve with roti, puri or paratha.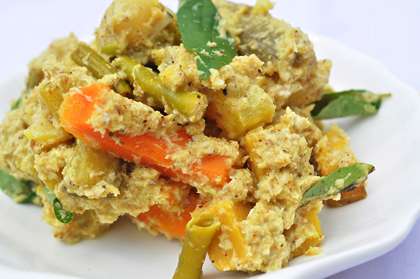 Preparation time: 10 minutes
Cooking time: 25 minutes
Servings: 2-3
Ingredients:
1 cup Cucumber Sliced
1 cup beans chopped
1 cup Yam (chop into thin slices)
1/2 cup Carrot Sliced
1 /2 cup Snake gourd Sliced
2 Drumstick cut into 2″ length pieces
2 Raw bananas (peeled and sliced)
1 cup Raw mango pieces
3/4 cup Grated coconut
6-8 Green chilies
1 tsp Cumin seeds
Few Curry leaves
1  tsp Turmeric powder
Salt to taste
4  tbsp Coconut oil
How to make Aviyal:
Combine the coconut, cumin seeds, ginger and green chillies.
Grind altogether to make a fine paste and keep aside.
Heat a big vessel on high flame and add coconut oil.
Put all the vegetables and saute for few minutes in hot oil.
Now mix the salt and turmeric powder and stir without adding water.
Now Put the slices of bananas and mango pieces in vegetables and cover the vessel.
When steam comes out, add the coconut paste and stir well.
Remove from fire and garnish with curry leaves.
Chef Tip:
Avial can be made in curry style, for that you just need to add water as per your requirement, stir into the vegetables, get few boils and it is done.