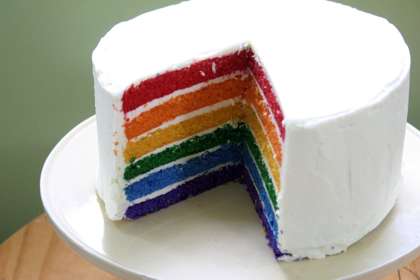 Rainbow Cake is the beautiful combination of 5 unique colors, tastes and flavors. This cake contains the flavors of raspberry, strawberry, lemon and orange. This delicious cake is kid's favorite and perfect to celebrate several special days and occasions. You can use the flavor of your choice and top with lots of whipping cream.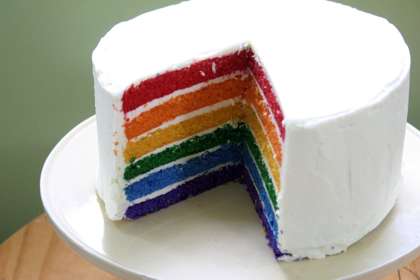 Preparation time: 25 minutes
Chilling time: 8-10 hours
Servings: 4
Ingredients:
100 g pack of strawberry jelly
100 g pack of raspberry jelly
100 g pack of lemon jelly
100 g pack of orange jelly
100 g pack of lime jelly
2 cups whipped cream
6 cups hot water
2-1/2 cups normal tap water
How to make Rainbow Cake:
Pour each packet of jelly into 1 cup of hot water and stir in till it completely dissolves.
Add 1/2 cup of water in each dissolved jelly.
Now add 1/2 cup cold water to each of them.
Chill the raspberry gelatin until very thick.
Smoothly line sides of a 10 inch spring from pan, carefully with wax paper.
Cut to extract 3 inches above the pan.
Whip the raspberry gelatin very carefully till it turns to fluffy.
Now spoon the prepared mixture into the pan.
Place the pan in the refrigerator until the mixture sets and chilled.
Chill, whip and layer the remaining flavors in the pan.
Make sure you have to let each layer chill until sets but not firm before adding the next layer.
Keep this pan overnight in the refrigerator.
Before placing the pan in the refrigerator, remove the sides of the pan and paper.
In the next morning, spread the whipping cream over the top and on the sides of the cake.
Colorful rainbow cake is ready to serve.