Chana Masala is a North Indian style preparation of Kabuli Chana in medium spicy Gravy of Onion, Tomatoes and Spices. Some people add coconut in it for giving a South Indian touch to the dish and for bringing a distinct taste. But I have given a true Punjabi touch to my Chana Masala recipe and simply relished it with fresh Indian spices / Masala.
Chana Masala dish is famous in all over India and can be served with Bhature, plain Indian roti or even with hot and fluffy Puri. If you are fond of chole bhature then you can consider to cook this same style chole at home and serve with homemade bhatura.
Sometimes I pack this up for School Tiffin and Lunch Box as well. In that situation, I do the little preparation well in advance (one night before). For example, you can boil the chana and even can make the gravy in advance and just cook it with spices on next morning for quickly packing it up for your hubby or kids tiffin.
Chana/ Chole / Chickpea or Kabuli Chana are rich in Fiber. It can be made in various types of gravies. You can make these chana in simple tomato based gravy too. Sometimes with or without adding cream. In short, there is a huge variety that can be made from chana at home. I use it in making sprouts and salads as well.
Read here that How to make Fluffy Puri Recipe at home.
How to make Chana Masala recipe:
Chana Masala Recipe is a North Indian style preparation of Kabuli Chana or Chole in medium spicy Gravy of Onion, Tomatoes and Indian Masalas.
Ingredients
1 cup dried white chickpeas/kabuli chana
1 cup fresh onion paste
2 tomatoes, chopped
2 green chillies, finely chopped
1 tablespoon ginger-garlic paste
1/2 teaspoon cumin seeds
Few curry leaves
1/2 teaspoon red chilli powder
1/2 teaspoon turmeric powder
1/2 teaspoon coriander powder
3/4 teaspoon garam masala powder
Few Coriander leaves, finely chopped
2 tablespoon oil
3 cups water for pressure cooking the chana
Salt to taste
Instructions
Chop one big onion in fine slices and put in a blender. Make a smooth puree and keep aside. Also finely chop 2 tomatoes and 2 green chilies and keep aside.
Soak the chana/chickpeas overnight or for about 8-9 hours. Next morning, pressure cook it with water and salt till they are completely cooked. Drain and keep the stock aside.
Heat oil in a frying pan and add cumin seeds and curry leaves. Allow the seeds to pop up and then add fine paste of onion. Saute continue on medium flame and prevent it from burning. Keep on stirring so that onion paste does not get burned. Add ginger-garlic paste and stir fry till the raw aroma of ginger-garlic disappears.
Now mix in chopped tomatoes along with green chillies. Saute for 2-3 minutes, stirring in between. Add stock or reserved water of cooked chana and wait for few boils, till the gravy thickens a bit. Mash few pieces of chana with the spoon. This will help in thickening the gravy. Check seasoning and add more salt as per your taste.
Garnish with finely chopped coriander leaves and serve with Poori, Chapatis, Bhature, bread slice or even with Steamed Rice and accompanied with lemon & onion slices.
Notes
You can add water to adjust the desired consistency of gravy that you require.
Tasty Indian Recipes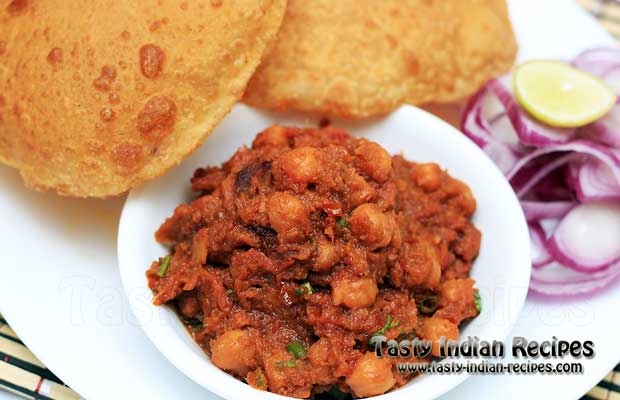 Chef Tips:
You can use this same style gravy for making black chickpeas, potato or green peas.
Further Reading:
If you are looking for more Chole or Chana Recipes then do check Aloo Chole, Ragda Patties and Chole Bhature.