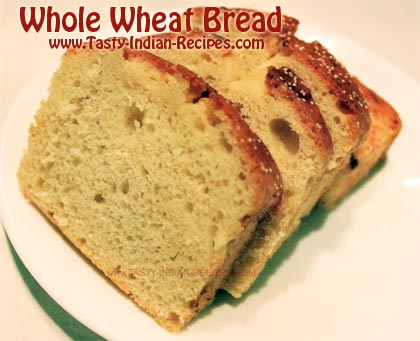 Whole Wheat Bread can be easily made at home, you just need to arrange few easily available ingredients. The unique mixture of fine-grained wheat flour, honey and yeast can become a moist and classic, homemade whole wheat bread. This 100% homemade whole wheat bread is easy in making and healthy in eating. Learn how to make a delightful whole wheat bread (loaf) in your own kitchen.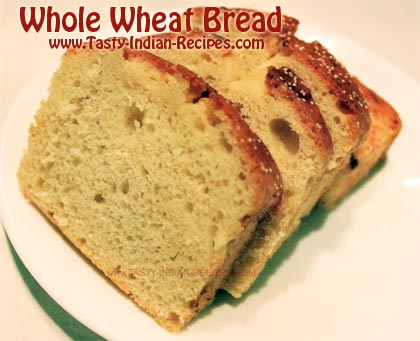 Preparation time: 20 minutes
Cooking time: 40-45 minutes
Servings: 1 loaf
Ingredients:
2 cups whole wheat flour
1/4 cup honey or maple syrup
1 cup lukewarm water
3 tsp active dry yeast
1/2 cup milk
1/2 tsp salt
little amount of oil to grease
How to make Whole Wheat Bread:
Dissolve the yeast in 5 tablespoons of water and keep aside.
Take a big bowl and combine all the ingredients in it.
Stir until the dough starts leaving the sides of the bowl.
Place the dough into clean and greased surface.
Take little bit of oil in your hands and knead it for about 5-6 minutes until becomes smooth and supple.
Transfer the dough to a slightly greased bowl, cover and keep aside for about 1-1/2  to 2 hours until the dough rises to its double amount.
Now again place the dough to a lightly greased surface, shape it into an 8″ log.
Place the log in a lightly greased 8 1/2″ x 4 1/2″ loaf pan.
Cover the pan with lightly greased plastic wrap and allow the bread to rise for about 2 hours or until the center seems crowned about 3/4″ above the rim of the pan.
Preheat the oven to 350°F on high.
Grease the baking tray with little bit of oil or butter.
Bake the bread for about 40 to 45 minutes by tenting it with the aluminum foil after about 15 minutes to prevent over-browning.
The finished loaf must register 170°F on an instant-read thermometer, that inserted into the center.
Take out the bread from the oven and allow to cool completely.
Make the slices as per your requirement and store in a clean plastic bag.
Store the bread at room temperature.
Chef Tips:
You may use the electric mixer or food processor to knead the dough.
It is very important that dough must be soft and firm enough to make the proper bread, hence you may adjust its consistency with additional water or flour.
This homemade whole wheat bread is extremely tasty and healthy in eating.
Nutrition information:
Amount Per Serving  Calories: 148 | Total Fat: 2.2g Saturated Fat: Trans Fat: | Cholesterol: 0mg  | Sodium: 187mg  | Total Carbohydrate: 21g Dietary  | Fiber: 2.5g  | Sugars: 5g  |Protein: 5g.