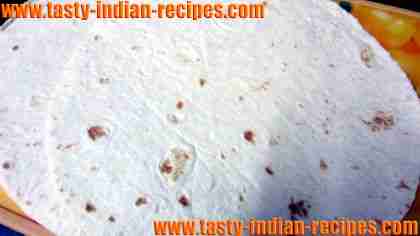 Tortilla are simply made with the combination of wheat flour and all purpose flour. If you want to make the best wraps then you should have knowledge to make the best home made tortilla, because it is a base of a delicious wrap, hence you must give a try to it and let us know your opinions about this.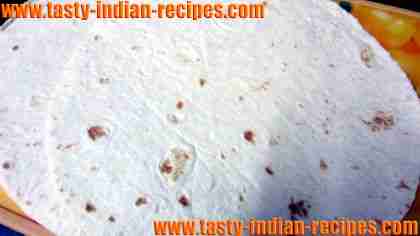 Preparation time: 15 minutes
Cooking time: 10 minutes
Servings: 10 Tortilla's
Ingredients:
2 cups wheat flour
1 cup all purpose flour
1/2 tsp baking powder
1 tbsp butter or ghee
Salt to taste
Warm water
How to make Tortilla:
Combine all the ingredients well in a big bowl.
Mix with the fingers and knead the dough by gradually adding little amount of warm water.
When the dough is medium soft and smooth enough, then stop kneading.
Make some holes with the help of fork or knife.
Cover the dough with damp muslin or cheese cloth and leave to settle for about 15-20 minutes.
Divide the dough into 10 equal parts.
Take one ball and roll with the rolling pin.
Use dry wheat flour if required for rolling.
Make a thin circle of about 5-6 inches.
Heat a non-stick tawa, place the tortilla over the heating tawa.
Cook just for few seconds and immediately flip and cook from other side as well.
When little brown spots starts appearing from both the sides, it means tortilla is ready.
Place the tortilla on paper plate until it dries.
Follow the same procedure to make other tortillas.
Chef Tips:
Butter or ghee is an important ingredient to make the ready made style tortilla.
You can refrigerate tortillas for few days.
Also you can freeze them for few months.
These tortillas are specially made for making wraps and rolls.
Always use warm water and not the hot water to make tortilla.
Tortilla is extremely delicious even if eating as it is just by applying little butter and chaat masala at the time of serving.
You can make Aloo patty (tikki) wrap, Chicken Tikka Wrap and many more delicious wraps and rolls from tortilla.