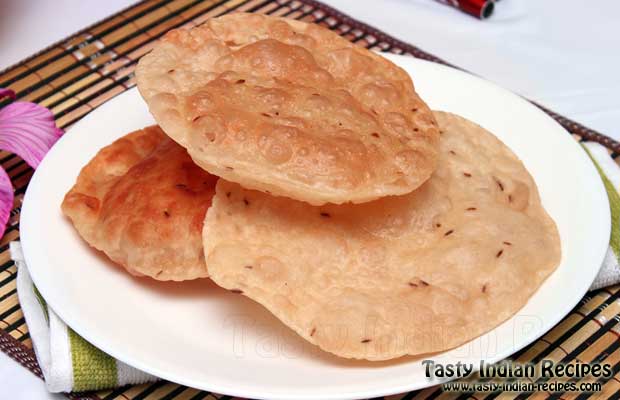 Kuttu Ki Puri (puffed buckwheat bread) is a soft and fluffy puri made with buckwheat flour and boiled potatoes. This delicious puri is made in pure ghee, hence is considered good and healthy during fasting in Navratra.
Preparation time: 15 minutes
Cooking time: 15 minutes
Servings: 8-10 kuttu ki puris
Ingredients:
2 cup buckwheat flour (kuttu ka atta)
2-3 potatoes (boiled)
1/2 tsp black pepper powder
1/2 tsp chaat masala
A pinch of ajwain (carom seeds)
Salt to taste
Pure ghee for frying
How to make kuttu ki puri:
Mash the boiled potatoes and add salt, pepper powder, chaat masala and 1 tbsp ghee.
Mix very well and keep aside.
Mix the flour and ajwain in a big bowl.
Add little amount of water and knead a soft and smooth dough.
Take one small portion of the dough, give a shape of ball and roll out of 2″ diameter.
Apply ghee on the rolled out roti and put a tsp mixture of boiled potatoes in the center.
Combine from all the sides and seal the edges.
With the help of dry flour, again roll out the roti and make a medium thick round of about 4 inch in diameter.
Heat sufficient ghee in a pan and place the rolled out puri in it.
Fry the puri from both the sides until turns into nice golden brown in color.
Drain on oil absorbent paper and serve hot.
Chef Tips:
Another way to make this puri is you can mix the flour, boiled potatoes and all the spices, knead the dough and then roll out to make a puri.
You may adjust the spices as per your requirement.
2-3 puri's are sufficient to have in one meal during fasting.