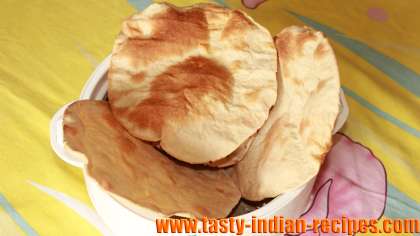 Pita bread is the famous Middle Eastern bread, served with almost every meal. Now a days, it' s been used in India as well. You can see variety of Shawarma, roll and falafel served on Mumbai Street's. They use pita bread for making vegetarian and non-vegetarian wraps. Since long time my friend's have been asking me the proper way and ingredients for making pita bread at home. Today I just successfully made it in my kitchen, hence sharing with you.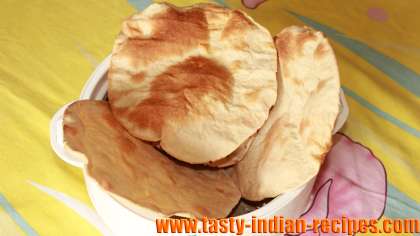 Prep time:
Cook time:
Total time:
Yield: 8 servings
Ingredients required for making Pita Bread:
4 cups all-purpose flour (maida)
1 package of yeast, or quick rising yeast
2 tsp granulated sugar
3/4 tsp salt
1-1/2 cups lukewarm water
How to make Pita Bread :
Dissolve yeast in 1/2 cup of warm water.
Mix sugar and stir until dissolved.
Let sit for 15 minutes until water is frothy.
Combine flour and salt in a big mixing bowl.
Make a small area in the middle of flour and pour yeast water in the center.
Slowly add remaining warm water, and stir with wooden spoon or rubber spatula until elastic.
Make a smooth and stiff dough with your hands.
Place dough on floured surface and knead for about 10 minutes.
When the dough is no longer sticky and is smooth and elastic, cover and keep aside for about 2 hours.
You will observe that dough is doubled in size.
Take any big bowl and coat with good amount of cooking oil.
Place the dough carefully in that bowl and turn upside down, for coating of whole dough.
Roll out the dough in a rope, and pinch off 15 small pieces.
Place balls on floured surface and let sit covered for 10 minutes.
Preheat the oven at 400 degrees F and make sure that rack is at the very bottom of oven.
preheat the baking sheet of oven.
Roll out each ball of dough with a rolling pin into circles.
Try to make a round roti of about 5-6 inches across and 1/4 inch thick.
Bake each circle for 3-4 minutes until the bread puffs up.
Turn over and bake for 2 more minutes.
Remove each pita with the help of spatula and slightly push down puff.
Immediately place in storage bags.
Homemade Pita Bread is ready to serve with meal.
You can use this pita bread for making chicken tikka wrap, paneer tikka kathi roll, paneer shawarma roll and many more such recipes.
Chef Tips :
Pita bread can be stored for up to a week in a pantry or bread box.
You can freeze this bread up to a month in the freezer.
Make sure to use freezer bags when storing in the freezer.
This homemade pita bread can be eaten with meal or can be used for making falafel, sandwiches and several other wraps.