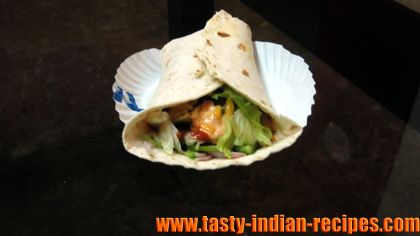 Paneer Shawarma Roll is the best snack made with cottage cheese, spices and wrapped a roll. This is truly the best vegetarian recipe specially who do not eat non-veg. It is a great snack which can be eaten at any time. I personally would like to say that this is the best roll in this world. Learn to make easy and quick paneer shawarma roll and enjoy this meal along with boiled carrot dipped in vinegar and garlic sauce.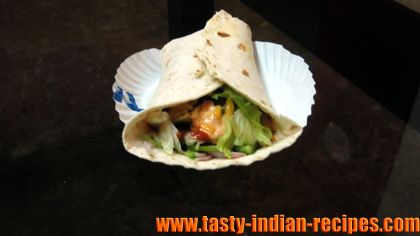 Preparation time: 15 minutes
Cooking time: 30 minutes
Serving: 4
Ingredients:
200 gms paneer (Indian cottage cheese)
1 onion cut into slices
1 tomato cut into slices (pulp less)
1 pizza base
2 tbsp hummus sauce (store bought)
1 tsp olive oil
2 tbsp vegetable oil
For marination you need:
1 tsp mixed pickle
1 cup thick curd
1/2 tsp cumin powder
1/2 tbsp green cardamom powder
2 tsp ginger-garlic paste
8 green chillies chopped
Salt to taste
How to make Paneer Shawarma Roll:
Cut the paneer into thin fingers shape and then stir fry in vegetable oil.
Fry until paneer fingers turn into golden brown from the edges. Keep aside.
Combine all the ingredients of marination and in the end mix paneer fingers very gently.
Keep this marination in the refrigerator for about 30-40 minutes.
Place a pizza base on flat surface and cut into 4 thin slices.
Heat a tawa on high flame and warm all the pieces of pizza base for about few seconds.
In a pan heat olive oil, add slices of onion and tomatoes. Saute for few minutes.
When the oil begin separating then add marination of paneer.
Mix well and adjust the salt.
Cook for 3 minutes or until gets dry fully.
While serving paneer shawarma spread a tsp of hummus sauce on one pizza slice, place few pieces of paneer with the veggies and then roll forward.
Chef Tips:
Serve paneer shawarma immediately else it will become mushy and tasteless.
You may add your choice of herbs and spices for giving it more flavors.