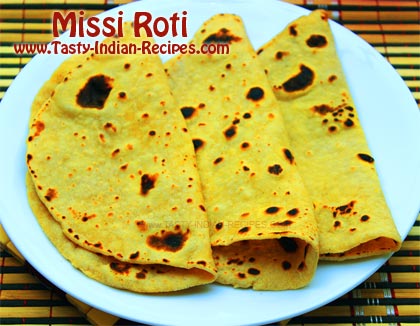 Missi Roti is the unique blend of whole wheat flour, besan, curd, salt and Indian spices. It is always yummy and perfect for any meal and can be cooked in oven, tandoor or on hot griddle.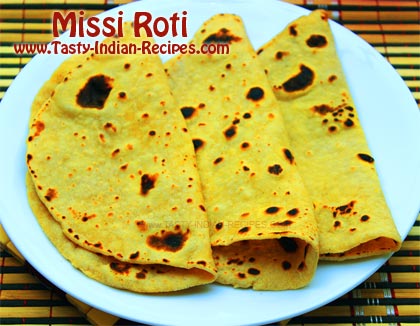 Preparation time: 10 minutes
Cooking time: 15 minutes
Servings: 8
Ingredients:
300 gms whole wheat flour
1 cup bengal gram flour (besan)
A pinch of ajwain
A pinch of white sesame seeds
2 tbsp dried fenugreek leaves (kasuri methi)
1 tbsp curd
A pinch of turmeric powder
Salt to taste
1 cup oil
Water for making dough
How To Make Missi Roti:
Grind the dried fenugreek leaves and make a smooth powder form.
Combine the wheat flour, besan, salt, ajwain, sesame seeds, curd, turmeric powder and 1 tbsp of oil.
Mix well and add the powder of fenugreek leaves.
Gradually add water and knead the soft and smooth dough.
Cover the dough with wet cloth and keep aside at least for half an hour.
Divide the dough into small equal balls.
Roll out each ball into a thin chapati and cook on preheated tawa.
Apply little bit of oil on both sides and cook until looks lighter golden brown in color.
Serve hot with any dal, gravy or fish curry recipe.
Chef Tips:
You may use butter or ghee instead of oil.
Missi Roti can be cooked with or without oil, it is always healthy and tasty.
It can be also cooked in oven or tandoor.