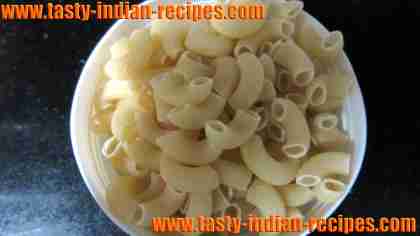 Macaroni Fruit Pudding is a unique combination of boiled macaroni, fruits and dry nuts. This healthy pudding recipe is fully flavored with butter, milk and golden syrup.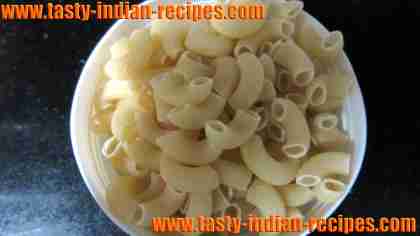 Preparation time: 10 minutes
Cooking time: 30 minutes
Servings: 4
Ingredients:
4 oz macaroni
1 apple thinly chopped
1-1/2 tbsp golden syrup
2 tbsp margarine or butter
2 tsp cashew nuts chopped
Few raisins
1 tbsp nutmeg (jaiphal) shredded
Few black currants chopped
200 gms condensed milk
1 egg beaten
A pinch of black pepper powder
Salt to taste
How to make Macaroni Fruit Pudding:
Boil the macaroni in 2 cups of water by adding little bit of salt.
Shift the boiled macaroni in the sieve and drain the whole water.
Shuffle up with the help of fork.
Heat a vessel and bring the milk to a boil.
Add macaroni, apple, black currants, golden syrup, cashew nuts and raisins.
Stir constantly for few minutes to break the lumps.
Mix the beaten egg, salt, black pepper powder and the butter.
Stir for few more seconds until consistency of pudding sets.
Finally spread the shredded nutmeg over all and serve hot.
Chef Tips:
Macaroni Pudding recipe can be prepared in the oven as well, for that you just need to bake the mixture for 20-25 minutes and then stir with fruits and nuts.
You may refrigerate this pudding for few hours and later serve chilled.
The vegetarians can make this recipe without egg. Still it will be healthy and tasty.