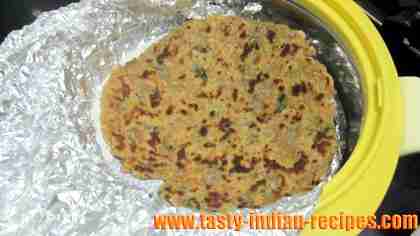 Chana Dal Paratha is a delicious Rajasthani Paratha recipe made with combination of flours, bengal gram and spices. It is the most flavorful and tasty paratha which is great to serve with raita or chutney.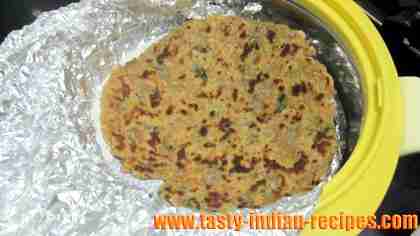 Preparation time: 20 minutes
Cooking time: 20 minutes
Makes 8-10 parathas
Ingredients:
2 cups chana dal soaked for few hours
2 cups wheat flour
1 cup maida (all-purpose flour)
3-4 green chillies thinly chopped
A pinch of ajwain
1/2 tsp dry mango powder
1/2 tsp red chilli powder
1 tsp garam masala powder
1 tbsp oil/ghee
Salt as per taste
Fresh coriander chopped
Oil to shallow fry
How to make Chana Daal Paratha (Bikaner Parata Recepie):
Boil the chana dal in the pressure cooker by adding salt and 4 cups of water.
Drain the whole water from dal and crush little bit.
Heat 1 tbsp of oil in a saucepan and roast the crushed dal for 3-4 minutes.
Combine the flours and mix the salt, green chillies, ajwain, red chilli powder, dry mango powder, garam masala powder,1 tbsp ghee and fresh coriander leaves.
Knead the dough by gradually adding water.
Divide the dough in small balls.
Roll out each ball with rolling-pin in 2″ diameter.
Place a spoonful of dal mixture on the center and roll out gently just like you make any normal paratha.
Heat the griddle and spread good amount of oil/ghee on it.
Place the rolled out paratha over the hot tawa and cook from both sides until browned.
Apply ghee/oil on both sides and serve hot with raita or plain yogurt.
Chef Tips:
Another way to make Rajasthani chana dal paratha is that you can make a paste of boiled chana dal and mix with the flour and spices, roll and fry on tawa.
This paratha is a great option to carry on the picnics and outings.
Only two paratha's are enough to remain energize for the whole day.