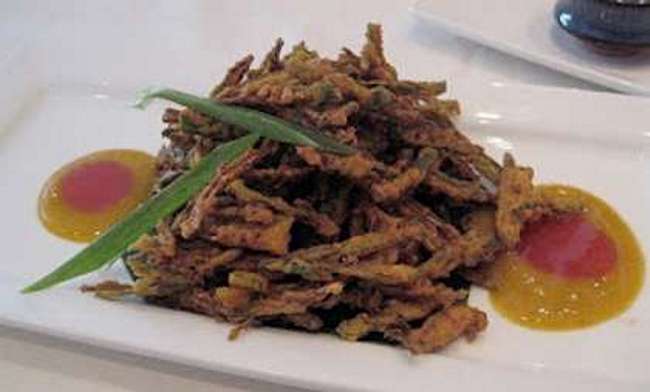 Rajasthani Bhindi is the crispy and crunchy stuffed bhindi recipe flavored with several Indian spices and gram flour. It is one of the tastiest recipe of Rajasthani cuisine and great to serve with roti or naan.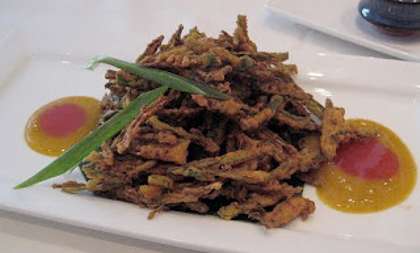 Preparation time: 10-12 minutes
Cooking time: 15-17 minutes
Servings: 5-6
Ingredients:
500 gms ladyfingers (okra/bhindi)
1 cup bengal gram flour (besan)
1/2 tsp onion seeds (kalonji)
4-5 green chillies finely chopped
4 cloves garlic crushed
1 inch ginger chopped
1/2 tsp cumin powder
1/2 tsp red chilli powder
1/2 tsp turmeric powder
1-1/2 tsp coriander powder
1 tsp garam masala powder
1 tsp fennel seeds (saunf)
1/2 tsp dry mango powder (amchur)
2 tbsp oil/ghee
Salt to taste
How to make Rajasthani Bhindi :
Wash the bhindi in normal running water and wipe with clean kitchen napkin.
Combine all the ingredients in a big bowl including besan and spices.
Slightly cut the two ends and slit on one side.
Stuff the prepared spice mixture into the ladyfingers.
Heat the ghee in a non-stick pan and arrange the stuffed ladyfingers properly in the pan.
Allow to cook uncovered for 4-5 minutes on low flame until the water of okra fully evaporated.
Stir 2-3 times in between and keep the flame very low.
After few minutes, cover the pan and leave until bhindi gets cooked very well.
Uncover and cook only for 2 more minutes to get the bhindi crispy and crunchy.
Serve hot with Indian flat bread (roti/chapati).