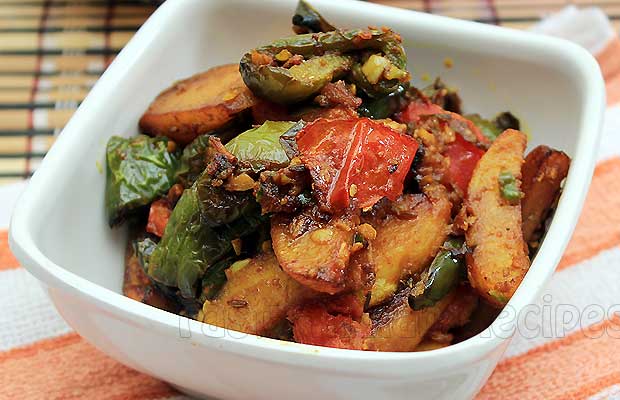 Aloo Shimla Mirch is a wonderful combination of Capsicum and Potatoes. Here potatoes are stir fried with green bell peppers. I make this dish most often and serve as a side dish with our meal and my family enjoy it very much. Aloo capsicum is the Punjabi recipe goes well with chapatis / phulkas or even with parathas.
Aloo capsicum sabzi is a best dry dish to serve with Dal Tadka and Vegetable Rice. This dry vegetable recipe is cooked in few chopped tomatoes and just a few Indian spice powders are used. It has no liquids and hence you can pack it up for school tiffin or for lunch box as well. Besides the capsicum and potatoes, I have added 1 chopped tomato for bringing a little twist in this. But adding tomato is optional, you can cook it without  tomatoes, still will be too tasty. Also onion and garlic is not used here. So Aloo capsicum ki sabzi can be eaten during Indian Vrat (Fasting) days even. It can be considered as no onion and no garlic recipe.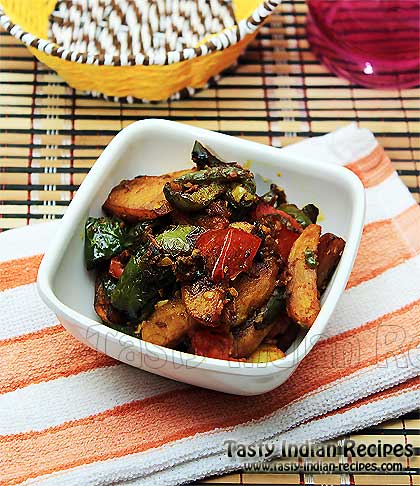 How to make Aloo Shimla Mirch Recipe:
Aloo Shimla Mirch Recipe is the combination of Potatoes and Capsicum. Both are Stir Fried and cooked in few Indian Spices and turns into a Dry Indian Dish.
Ingredients
3 medium capsicum (shimla mirch / simla mirch / green bell pepper)
2 medium potatoes
1 tomato, chopped
2 green chillies, finely chopped
1/2 teaspoon cumin seeds
1/2 teaspoon fennel seeds (saunf)
1/4 teaspoon red chilli powder
1/2 teaspoon turmeric powder
3/4 teaspoon coriander powder
1/2 teaspoon garam masala powder
1/2 teaspoon amchur powder (dry mango powder)
2 tablespoons oil
Salt to taste
Instructions
Rinse the vegetables and chop them. You can dice or chop the capsicum, and peel and dice or slice the potatoes and chop the tomato in big chunks.
Heat oil in a wok or kadhai. When the oil is medium hot, add cumin and fennel seeds. Allow the seeds to pop up and throw in chopped green chillies.
First add potatoes and stir fry them on a medium high flame, till they are half cooked. When the potatoes looks crisp from the edges, add capsicum and tomatoes. Saute the veggies on a low flame.
Mix in salt, red chilli powder and turmeric and gently stir them without putting lid on the pan for 2 minutes.Cover the pan and leave to cook for about 5-6 minutes on a low flame. Remember to check it after a few minutes or so.
When the vegetables are cooked, add coriander powder, garam masala powder and amchur powder.
Notes
Aloo Capsicum Recipe can be served as a main dish with Indian Chapati or as a side dish with lunch or dinner.
Tasty Indian Recipes
Chef Tip:
Further Reading: