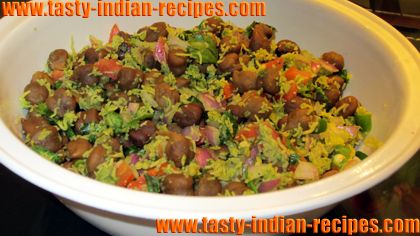 Dry Chana Masala is an exclusive snack or side dish recipe, which is made from kala chana, onion, tomato and spices. It is a delicious side dish in main meal, also good complimentary dish with the drinks. Kala Chana are excellent source of proteins and vitamins. Learn to make quick and tasty dry chana masala and garnish with your favorite vegetables.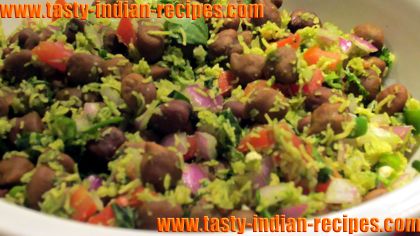 Preparation time: 10-12 hours.
Cooking time: nil
Mixing time: 5 minutes
Servings: 2-3
Ingredients:
2 cups kala chana (black chickpeas)
1 small onion thinly chopped
2 tomatoes thinly chopped (remove pulp)
2 green chillies thinly chopped
1/4 tsp red chilli powder
2 tbsp nylon sev
1 tsp coriander chutney
1/2 lemon juice
Fresh chopped cilantro
Salt to taste
How to make Dry Chana Masala:
Wash the chickpeas 3-4 times in normal running water and soak in adequate quantity of water for 10-12 hours or for overnight.
Boil the chickpeas in a pressure cooker by adding little bit of salt. Wait for 8-10 whistles or until become soft.
Drain the whole water and keep aside for 10 minutes.
In a mixing bowl add boiled chickpeas, chopped onion, tomatoes and green chillies. Mix thoroughly.
Check the flavors, adjust the salt and add red chilli powder as per your taste.
Add chopped cilantro and lemon juice.
Add spoonful of coriander chutney.
Mix nylon sev and serve immediately.
Chef Tips:
If you are making this dish in the morning then keep black chana overnight in the water and if you are making in the night then soak them throughout the day in sufficient amount of water.
You can garnish this recipe with slices of carrot and capsicum or you can add vegetables of your choice.
Mix the nylon sev at the time of serving only, otherwise it will become mushy.
Do not microwave after mixing nylon sev.
you may use black eyed beans or white chickpeas to make this recipe.