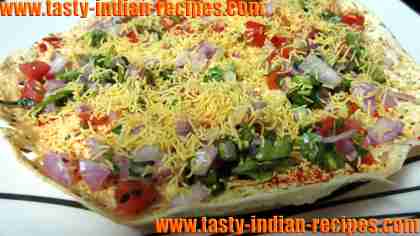 Snack Description before proceeding:
Punjabi Masala Papad is a unique Indian Snack Dish, basically stolen from the treasure of Punjabi Cuisine. Menu Cards of Indian restaurants are topped with this delicious snack dish. Crispy papad is topped with crunchy and freshly chopped vegetables and then flavored with chaat masala and spices, it genuinely turns the simple papad into the great and mouth watering snack dish.
In India, Masala Papad is highly served with the drinks and mocktails. It is a tasty indian snack dish having the tempting and refreshing flavors and crispiness. Some aspects are to be taken care at the time of making masala papad.
The vegetables which are topped must be fresh and thinly chopped.
Papad becomes crunchy only when seeds of tomatoes are removed.
Basic aspect is that all the preparation can be done in advance and the topping can be added or used just before serving.
Preparation time: 3 minutes
Cooking time: 3 minutes
Servings: 4 masala papads
Ingredients:
4 papads (Punjabi Masala)
1 big onion chopped thinly
2 small tomatoes chopped finely
4 green chillies chopped thinly
1 tsp red chilli powder
2 tsp chaat masala powder
2 tsp nylon sev ( ready packet available in the market)
2 tsp fresh cilantro chopped
Salt to taste
Oil for deep frying
How to make Punjabi Masala Papad:
In a mixing bowl add chopped onion, tomatoes, green chillies, salt and fresh cilantro. Mix well and keep aside. This mixture is called as a topping of masala papad.
Heat up sufficient oil in a deep pan.
Take out fried papad on tissue paper.
Sprinkle some red chilli powder and chaat masala powder over the papad.
Now spread the topping of onion and tomatoes over the masala papad.
Again sprinkle some chaat masala over the topping.
Lastly garnish with nylon sev and serve immediately.
Chef Tips:
Masala papad should be served immediately or it becomes soft and spongy.
You can use any flavored papad, i have used Punjabi masala flavor papad.
You can roast the papad instead of deep fry, but roasted papad soaks the moisture very fast and gets mushy immediately.